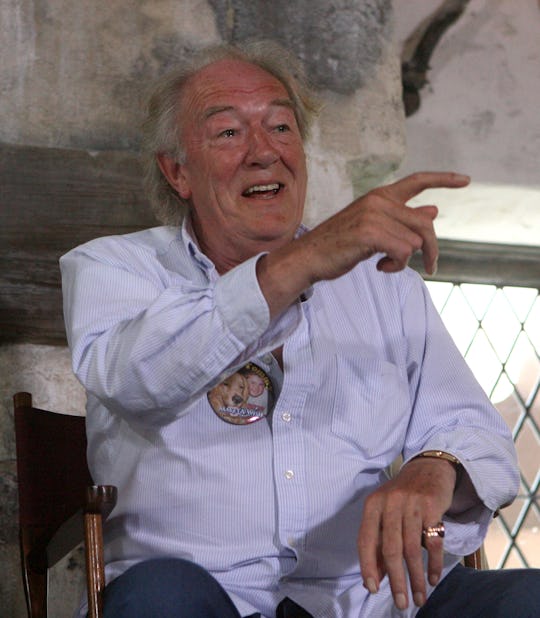 Orlando Sentinel/Tribune News Service/Getty Images
Harry Potter's Dumbledore Actor Michael Gambon Has Died
The actor leaves behind his son Fergus and his wife Anne, who were both at his bedside when he passed away.
Michael Gambon, the actor perhaps best known for playing Professor Albus Dumbledore in six of the Harry Potter movies, has died at the age of 82 years old. He leaves behind his son Fergus and his wife Anne, who were both at his bedside when he passed away.
Gambon's family shared the sad news of his death in a statement via his publicist Claire Dobbs on Thursday, explaining that he had passed away after a "bout of pneumonia" in the hospital. "We are devastated to announce the loss of Sir Michael Gambon," the statement read. "Beloved husband and father, Michael died peacefully in hospital with his wife Anne and son Fergus at his bedside, following a bout of pneumonia. Michael was 82. We ask that you respect our privacy at this painful time and thank you for your messages of support and love."
The actor was married to his wife, mathematician Anne Miller, for 61 years and was father to Fergus Gambon, who is a ceramics expert often featured on Antiques Roadshow on PBS as well as being the Director of British Ceramics and Glass at Bonhams. He is also father to sons Tom, born in 2007, and Will, born in 2009, with set designer girlfriend Phillippa Hart, and before his death he split his time between rural Kent and London to be close to both of his families.
While he is best known to many as the actor behind Professor Albus Dumbledore in six of the eight Harry Potter movies, the Irish born actor actually had a long and impressive resume of work in television, film, and stage that spanned six decades. Over the course of his life he won four BAFTAs, three Olivier awards, and two Screen Actors Guild awards, as well as being knighted by Queen Elizabeth in 1998 for services to drama, although he did not use his title of "Sir."
Gambon retired from acting on stage in 2015 after struggling to remember his lines in front of a live audience, telling The Sunday Times that "It's a horrible thing to admit, but I can't do it. It breaks my heart." He continued to act onscreen until 2019, when he took on his final roles in movies like Cordelia and Judy. But, of course, we will always remember him as a wizard, as a mentor, and as a professor. To us, he will always be Dumbledore.