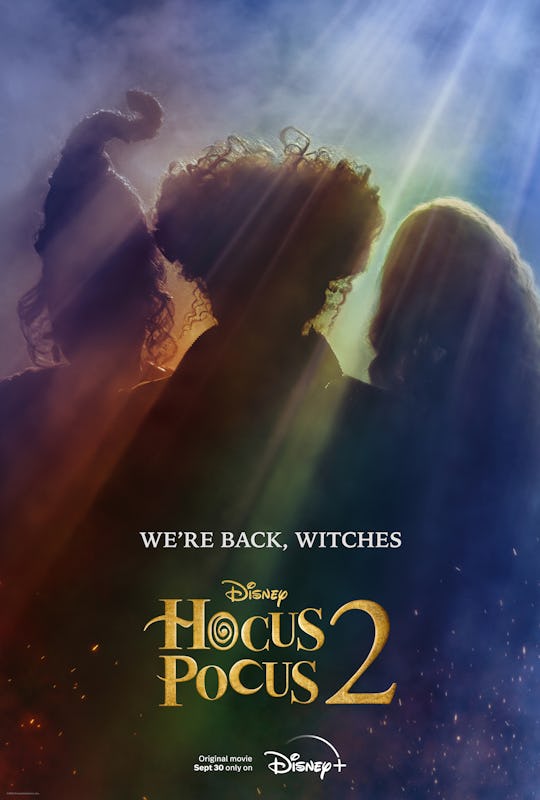 Disney
Hocus Pocus 2 Drops First Official Trailer
"Lock up your children, Salem! We're back!"
There have been all of these hints and clues, little mentions by the original cast members, but we didn't know for sure until now. Hocus Pocus 2 officially has a trailer and premiere date, and please allow me the honor of giving you every last bit of information we have so far about when we'll be watching the Sanderson sisters ride again, how to watch it, and who is going to be involved. I'm just so relieved some virgin finally lit that black candle, I can't even tell you.
It's been nearly 30 years since Disney released the 1993 cult classic Hocus Pocus, a movie about a teenage boy named Max who accidentally unleashes the Sanderson sisters, three witches played by Bette Midler, Kathy Najimy, and Sarah Jessica Parker, on the town of Salem who want to drain the energy of children for eternal youth? What's not to love about that?
The movie's popularity has endured over three decades, even gaining in popularity as parents make it a Halloween tradition with their kids. While fans love the original, let's face it: we want more. And now we are finally going to get it.
Hocus Pocus 2 premieres on Sept. 30.
Hocus Pocus 2 will start streaming on Sept. 30 on Disney+. Disney shared a presentation with members of the media in May 2022, per Entertainment Weekly, featuring two teen girls accidentally lighting the Black Flame Candle and the Sanderson sisters returning as Midler exclaims, "Lock up your children, Salem! We're back!" The sisters also performed their own rendition of Elton John's "The B*tch Is Back," so now you should be really excited.
A first look trailer hints that there's a new witch in town.
Disney+ dropped a trailer in June that gave fans a first look at Hocus Pocus 2, and it is surprisingly nostalgic. Not just because we got to see the Sanderson Sisters themselves conjured, with Winnifred screaming out "Lock up your children, Salem!" It's how they were conjured. Two teenager girls sit in a cemetery, reading from The Book. It seems one of the friends is turning 16 on Halloween and this is the age when a witch's powers are first revealed. True enough, because their chant brings the Sisters back. And they're ready to perform. When a man sees them on the street and says "It's the Sanderson Sisters! I bet you're looking for the stage," Winnifred responds, "Always."
Get ready for a Sanderson Sisters drag show.
RuPaul's Drag Race stars Ginger Minj, Kornbread "The Snack" Jeté, and Kahmora Hall have been slotted to play drag versions of Winnifred, Mary, and Sarah Sanderson in a scene set in a drag show in the sequel. And even better? The Sanderson sisters themselves will be there for it.
We will see some exciting new faces.
Disney+ announced on Twitter that Tony Hale of Arrested Development fame and Hannah Waddington from Ted Lasso would be joining the cast of Hocus Pocus 2. Also joining the cast will be Sam Richardson, Whitney Peak, Lilia Buckingham, Belissa Escobedo, Doug Jones, Juju Brener, Froy Gutierrez, Taylor Henderson, and Nina Kitchen. Sadly, Thora Birch will not be returning to reprise her role as Dani, but Doug Jones will be back as well-intentioned zombie Billy Butcherson.
All three Sanderson Sisters are coming back!
The sequel sees three young women accidentally bring the Sanderson sisters back to life and must stop them before they devour the spirits of all the young children, according to The Hollywood Reporter. We can only hope for another musical performance a la "I Put A Spell On You" from the first movie.
All three Sanderson sisters are coming back for the sequel, so that's a relief, and a new director has been slotted to take over for original director Adam Shankman. The sequel will be directed by Anne Fletcher, who also directed the Sandra Bullock/Ryan Reynolds vehicle The Proposal.
All three Sanderson sisters are coming back.
Midler, for one, has always been open about wanting to reprise her role as Winnifred Sanderson, telling Us Weekly way back in 2019, "I heard that it's going to be fabulous. I hope they hire me because I want to fly again in the worst way."
As if her sisters would ever fly without her.
This article was originally published on