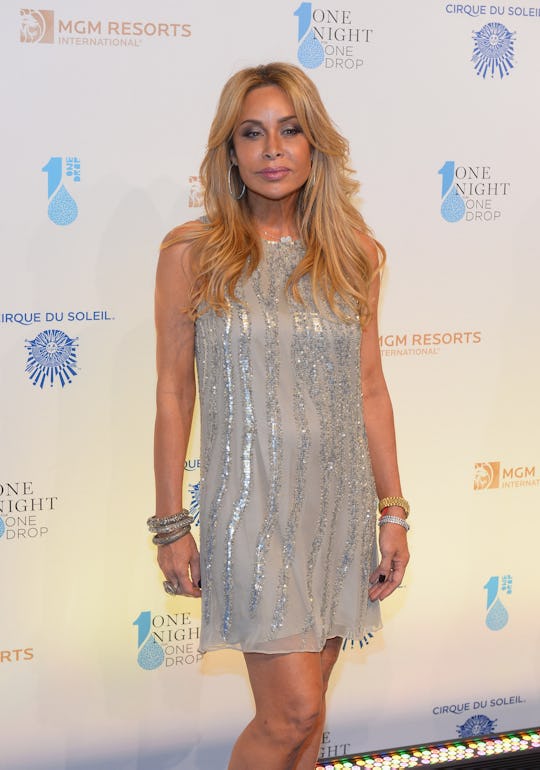 Bryan Steffy/WireImage/Getty Images
How Did Faye Resnick Get Famous? Her Testimony In The O.J. Simpson Trial Wasn't The Only Thing That Put Her On The Map
It seemed like Americans had forgotten about Faye Resnick. And then FX came out with its new American Crime Story miniseries The People Vs. O.J. Simpson, and it didn't take long for people to remember. The interior designer is best known for her role in the O.J. Simpson trial, although some may know her from cameos on episodes of The Real Housewives of Beverly Hills. And now she is being played on the new FX drama by actress Connie Britton. But how did Faye Resnick get famous?
The Trial
Well, that's easy. She happened to be a close friend of Nicole Brown Simpson, the late wife of O.J. Simpson, and Resnick testified against him in court. With all the publicity that trial got from start to finish from the media, you didn't even need to play a large role in the trial to become famous, or infamous, your name only needed to come up. Well, Resnick's came up — a lot. Resnick testified against Simpson in the trial for the alleged murder of his wife Nicole Brown Simpson — charges that were ultimately cleared. But Simpson's laywer's tried to pin the death on Resnick, even making an alleged connection to her cocaine use at one point (Resnick was in rehab when Nicole Brown Simpson died).
According to a 1995 Los Angeles Times, article, the lawyers claimed Columbian drug dealers murdered Nicole, having mistaken her for Resnick, who apparently owed them money.
The Book
What also heightened Resnick's fame was the book she published just prior to the trial, titled, Nicole Brown Simpson: The Private Diary of a Life Interrupted. Back in 1994, when asked by People why she wrote the controversial memoir, Resnick claimed,
Nicole truly believed and told me on many occasions that O.J. would kill her and get away with it. I promised her that if that happened, I would tell everything I knew about their abusive relationship.
The Real Housewives of Beverly Hills
Reality TV fans will know Resnick best for her cameo appearances on episodes of The Real Houswives of Beverly Hills. Resnick earned herself quite a reputation as a "villain" on the show.
Resnick is good friends with cast member Kyle Richards, but drama follows her wherever she goes — including Beverly Hills. In 2010, Camille Grammer called her, "the morally corrupt Faye Resnick," in response to Resnick posing for Playboy after writing a book about Nicole Brown Simpson's death.
American Crime Story
Resnick, played by Britton in the new FX ministries, left an impression on viewers after being portrayed in the series' premiere and renewed interest in Resnick's book as well. Many were impressed by Britton's performance, including Britton's colleague, Selma Blair, who plays Resnick's friend, reality television matriarch Kris Jenner. "Instantly funny, she is such a talented woman. She's just so, so, good," Blair told Entertainment News in response to Britton's performance.
Whatever the case, whether you know her from her stint on television or her role in The Trial of the Century, it seems Faye Resnick's name will be floating around American households for some time.