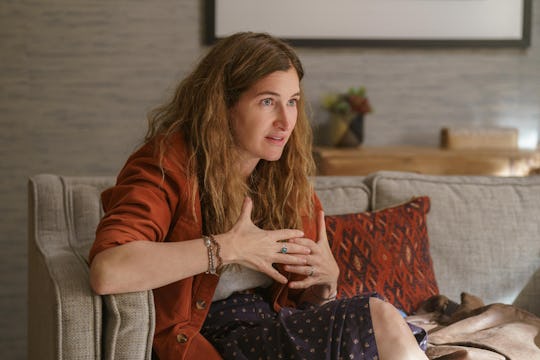 Erin Simkin/ Hulu
Kathryn Hahn Is Absolute Perfection In Hulu's Tiny Beautiful Things Trailer
The upcoming Hulu series is based on Cheryl Strayed's wildly popular Dear Sugar advice column.
Creating a series that feels at once relatable and fresh is not a small feat. Particularly when it comes to telling stories about mothers and daughters. Sometimes it can feel like certain stories are just being regurgitated, but this does not seem to be the case with Hulu's Tiny Beautiful Things. The trailer alone will have you all wrapped up in your feelings, thinking about your own role as someone's child mixed up with being a parent. Not a new concept, yet somehow it hits different. It feels more vulnerable, more believable. Perhaps because it has a strong basis in reality. Here's everything we know about the Hulu series, the inspiration behind it, and more.
Is Hulu's Tiny Beautiful Things based on a book?
Cheryl Strayed's 2012 book Tiny Beautiful Things is based on her wildly popular advice column and podcast Dear Sugar. Strayed co-hosts Dear Sugar with fellow writer Steve Almond, who initially began the advice column for The Rumpus and asked Strayed to join him in doling out advice in the early 2010s. The book version of Tiny Beautiful Things is a sort of conversation between some of Strayed's most beloved pieces of advice for people struggling with the end of a marriage, a friendship, love and her own connected stories that give her such brilliant insight into other people's problems. Interspersed with her "radically empathetic" advice to people writing in with stories of love and loss, Strayed shares some of her own life story in Tiny Beautiful Things.
Is Tiny Beautiful Things based on a true story?
Strayed's own life is really the outline for the Hulu series, and it's a story many might be familiar with from another memoir she wrote, also in 2012, Wild. While Wild told Strayed's story of trekking across the Pacific Crest Trail after the sudden death of her mother from cancer, Tiny Beautiful Things delves deeper into both the before and after.
"There was so much life and story in each of these little letters that were written to me," Strayed told Vanity Fair last December. "And the letters I wrote back to people were just full of all the things I love to see when I watch television or movies — the real stuff of life."
In the new Hulu series, Clare (Kathryn Hahn) is trying to raise her teenage daughter Rae (Tanzyn Crawford) as her marriage to Danny (Quentin Plair) falls apart. In an effort to understand her life, Clare looks back on her own upbringing, including her relationship with her late mom. As she goes through it all, Clare tries to think of what she would tell herself as a 22-year-old woman when a writing friend asks her to take over the mantle of writing the Dear Sugar advice column. And remembers how our own stories can heal us.
Tiny Beautiful Things has an incredible cast.
Hahn's performance as Clare has been touted as "sheer brilliance" by Strayed, who told People, "She has this extraordinary way of being funny and deep and vulnerable and smart and exceptional and also like all of us in her every move. I feel so honored she said yes to this role. She's sheer brilliance."
Hahn is joined by another stellar actress, Merritt Wever, who plays her mother in flashback scenes. Also joining the cast are Michaela Watkins, Sarah Pidgeon, Elizabeth Hinkler, and Russell Hodgkinson.
The Tiny Beautiful Things trailer will make you emotional.
The trailer sees Clare trying desperately to hold on to her marriage and connect with her teenage daughter as her life seems like it's spiraling out of control. As her present life seems so far from who she thought she would be, Clare starts to think about her own mother who died when she was a young woman herself. That loss clearly bleeds into the way she deals with her own daughter when she says to her "I could die tomorrow!" and her daughter responds, "You're not the only one who could die tomorrow," leaving Clare horrified.
When does Tiny Beautiful Things premiere?
All eight episodes of Tiny Beautiful Things premiere on Hulu on April 7. Don't forget the tissues, and maybe a journal to jot down some of your own life lessons.