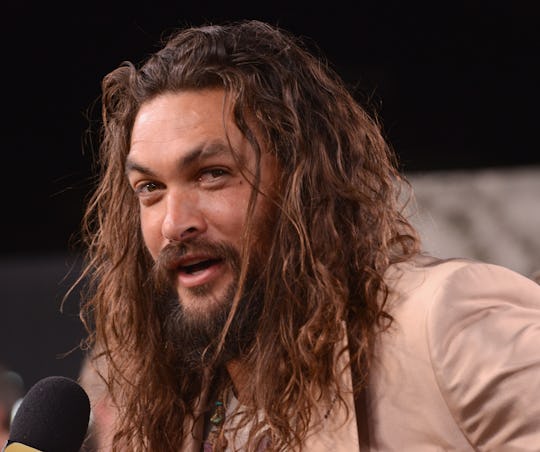 Albert L. Ortega/Getty Images Entertainment/Getty Images
Jason Mamoa Surprises Young Boy Battling Cancer With A Trident
The one and only Aquaman followed up on a promise he made during a sweet FaceTime call with one of his biggest fans.
The king of the land and seas has officially made a new friend who forever has a special place in his heart! Aquaman actor Jason Mamoa gifted a young boy battling cancer his very own trident not long after he promised him he would during a heartwarming FaceTime call.
Danny Sheehan is an Aquaman superfan who was diagnosed with Pineoblastoma, a rare and aggressive form of brain cancer, in 2017, according to his GoFundMe account, which has already exceeded its $75,000 goal. The little boy recently went viral after a video of him unwrapping an Aquaman toy was shared on Facebook on Nov. 15. "Oh my gosh, my favorite one! Aquaman! I love Aquaman," Danny shouted in the video.
Mamoa, who portrayed the "Defender of the Seas" in 2018's Aquaman, eventually caught wind of the adorable video and decided to reach out to Danny via FaceTime. During their chat, Danny confessed that he loves dolphins and he's never seen one. "We gotta make that happen," Mamoa responded. "I've been riding on dolphins, it's super fun. We should try that sometime." And on Instagram, Mamoa asked Warner Brothers to "get Danny [an] Aquaman Trident."
And on Sunday, Mamoa revealed Danny got a special delivery, sharing photos of the little boy with his new trident on Instagram. "Wanted to share a picture of this amazing boy Danny Sheehan, Natalie his mom sent me this today," Momoa wrote in the caption. "I wanted to say thanks to Andy Smith @sideshowcollectibles for putting some action figures and toys together for Danny and @wbpictures for sending over a Aquaman trident."
Danny also received a new Aquaman action figure and a note from Mamoa with a gift that still needs to be fulfilled. "Can't wait to ride on some dolphins with you Danny! Love, Uncle Aquaman," the note read.
Hopefully, Danny will get to ride with dolphins with his new trident by the time Aquaman 2 premieres in 2022. In the meantime, he can revisit his priceless connection with "his superhero hero" and beloved gifts.
This article was originally published on