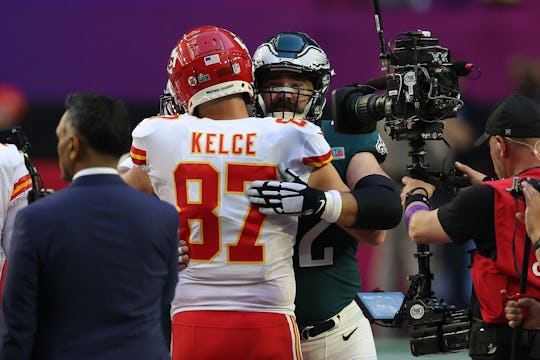 Ezra Shaw/Getty Images Sport/Getty Images
Jason & Travis Kelce Shared A Hug Before Super Bowl 57
You know their mama loved that *so* much.
Super Bowl games are always new and exciting. New commercials, new champions, new tearjerking moments (Chris Stapleton singing the National Anthem got me good), but Super Bowl 57 has something incredibly special. This is the first time in NFL history that two brothers are playing against each other in a Super Bowl. The Chiefs' Travis Kelce and the Eagles' Jason Kelce are facing off for the Lombardi trophy, and the Kelce brothers' sweet hug before the game proves that while they each want their team to win, they have each other's backs.
This honestly might be my favorite Super Bowl story. I've become obsessed with their mom, Donna Kelce, and all the sweet stories and pictures that have been shared over the past two weeks since realizing the brothers would be playing against each other in the Super Bowl. I mean, it's one thing to raise a son to be an NFL player, but to raise two of them, and then to have both of them be so good they literally play each other in the Super Bowl? Just wild.
The two brothers do host a podcast together titled New Heights with Jason and Travis Kelce, so it's not like their closeness ends at the football field. They played college ball together, were both drafted after their graduations, and have remained as close as ever.
Both of them have each own a Super Bowl, too, so to see them play together definitely deserves a pre-game hug. Their families are, of course, there, too, and I can only imagine how much Donna loved watching her sons hug it out on the field. At the end of the day, they are both already Super Bowl winners and will always be brothers — really, nothing else matters. (Except bragging rights at Thanksgiving.)