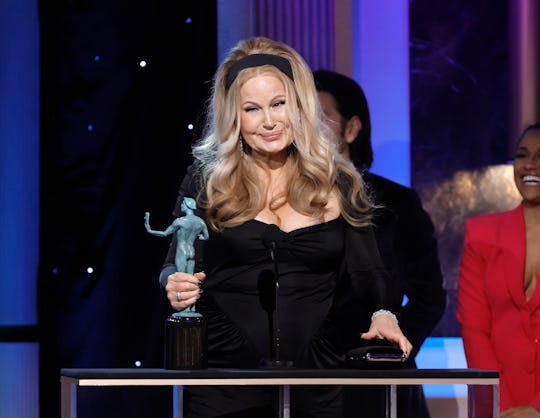 Kevin Winter/Getty Images Entertainment/Getty Images
Jennifer Coolidge's Dad Got Her To Play Hooky In First Grade & The Story Is So Sweet
As it turns out, all her love of film came from skipping school with her dad.
Everyone knows Jennifer Coolidge is funny. Whether you became a fan after her star turn as Tanya McQuoid in both seasons of The White Lotus or knew her from her many, many movies before the wildly popular HBO series, you know she's always reliably, objectively, hilarious. But what we haven't yet seen as a tender Coolidge getting emotional about her parents, which she did at Sunday's Screen Actors Guild awards. What's more, Coolidge shared some insight into how her father helped launch her career as a comedic actress. By getting her to ditch school when she was in the first grade.
Coolidge won a SAG award for outstanding performance by a female actor in a drama series on Sunday, and her acceptance speech touched heavily on her appreciation for her "amazing parents" who clearly supported her talent from a young age. A very young age, apparently, as she explained in a story about her dad when she was in the first grade.
"One day, the school principal came to my first grade class and said that I needed to be called to the office, and I went to the office," Coolidge explained in her speech. "She said 'you know, your father's here.' And my father was sitting there and he goes, 'Yeah, Jenny, we have to go.' And the principal said, 'Jennifer, get well.' And I didn't know what that meant."
Her father admitted in the car that he had lied to get her out of class to take her "somewhere cool," a Charlie Chaplin film festival that ended up changing her life. "He got me out of my first grade class to do it," she continued. "And I swear to god, that seeing Charlie Chaplin for the first time, and having that experience, it's my love of film. It's my love of actors. All that came from my first grade."
The American Pie actress' parents, Gretchen and Paul Coolidge, sent their daughter to orchestra camp as a child and encouraged her to pursue her dreams. Coolidge went on to attend Emerson College in her hometown of Boston before heading to the American Academy of Dramatic Arts in New York City. While she dreamed of being a dramatic actress, clearly those early Charlie Chaplin films with her dad clearly took hold because Coolidge went in a different direction. Her comedic timing is unmatched no matter what role she takes on.
All because her dad took her out of class when she was in first grade so they could watch movies together. I guess now we all know who to thank for the gift of Jennifer Coolidge.