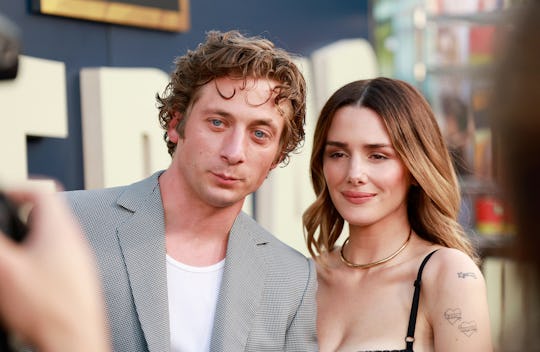 MICHAEL TRAN/AFP/Getty Images
Jeremy Allen White's Wife Addison Timlin Files For Divorce
The Bear star shares two daughters with Timlin.
Jeremy Allen White quickly became the internet's newest obsession when he starred in Hulu's hit series The Bear, playing complicated young chef Carmen "Carmy" Berzatto. Off screen, White is a dad of two daughters and is reportedly going through a big life moment as his wife Addison Timlin recently filed for divorce.
Addison Timlin filed for divorce after nearly four years of marriage.
On May 11, Timlin filed divorce paperwork in Los Angeles and a reasoning for their split was not listed, according to court documents obtained by Page Six and TMZ. White and Timlin have been married since October 2019 and share two children.
They met on set in 2008.
White first met Timlin in 2008 when they starred opposite each other in the television series Afterschool. The couple became friends and stayed that way for years, but clearly something changed at some point. Because they eventually became Instagram official in 2016 when Timlin shared a photo with him and called him her "ride or die."
When The Bear first came out in June 2022, Timlin took to Instagram to congratulate her husband for a role that "takes my breath away." In return, White wrote on her post, "I love you. Thank you for keeping my head right when things get wobbly. And thanks for always listening."
They got married in a courthouse ceremony in 2019.
In October 2019, White married the Fallen actor in a civil ceremony at the Beverly Hills courthouse in Los Angeles, per People. Dakota Johnson and Chris Martin were also in attendance at the ceremony, where White and Timlin wore matching newlywed jackets with the words "'Til death," and "Buddy + Billie" written across the back with a heart. She captioned the photo "Happy hearts."
They welcomed their first baby, a daughter named Ezer, in 2018.
In October 2018, White and Timlin welcomed their oldest daughter, Ezer Billie. Timlin shared the happy announcement on Instagram with a photo of White getting skin-to-skin time with his newborn daughter and the caption, "Ezer Billie White 10.20.2018 Welcome to the world baby girl, it just got so much brighter."
To celebrate Ezer Billie's first birthday, White shared a photo of his baby girl on Instagram smiling with the caption, "My heart turned 1."
His second daughter, Dolores, was born in 2020.
White and Timlin welcomed their second daughter, Dolores Wild, in December 2020 and Timlin wrote in her Instagram announcement that she arrived "just in time to save the year." She also called White her "everything."
Timlin celebrated White's Golden Globe win with a loving post months before she filed for divorce.
In January, White won the Golden Globe for Best Television Actor in a Musical or Comedy Series for his portrayal of Carmy in The Bear and Timlin congratulated him on his big moment with a lengthy Instagram post.
"When we were 14 years old and I saw you perform for the first time in drama class, I couldn't take my eyes off of you. When we'd run your lines for Shameless I'd be so tickled knowing before hand what everyone would get to witness the next day on set. When I watched the pilot for The Bear, I cried my f*cking heart out," she wrote. "I think somewhere I must've known how much life was about to change, but mostly I just knew that the world was about to discover what I've known all along. What a privilege it's been to know first ... Watching you win on Tuesday was one of the most overwhelming dimension hopping moments of my whole life, watching you win last night while holding our two babies was pretty out of this world too. Daddy winned another trophy winners cup. We're so proud."
During his acceptance speech at the Golden Globes, White thanked his wife for "everything" she does. "Addison Timlin, I love you deep in my bones," he said in January. "Thank you for all you do. Thank you for everything you've done. Thank you, thank you, thank you."
This article was originally published on