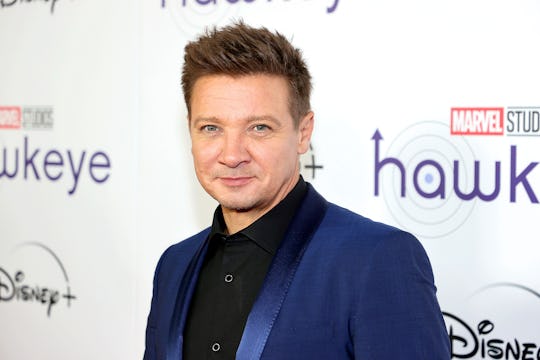 Theo Wargo/Getty Images Entertainment/Getty Images
Jeremy Renner Shared A Sweet Video Of His "Spa Day" With His Mom & Sister In The ICU
The actor is soaking up the love during his hospital stay following an intense accident with a snowplow.
Jeremy Renner is soaking up some sweet pampering from two special ladies in his life while in the ICU. As the Hawkeye actor recovers from an intense accident with a snowplow, his family has shown up for him at the hospital. Big time. His mom and sister gave him a little "ICU spa moment," and he could not have looked happier to have them by his side in a sweet video he shared on social media.
Renner was "run over" by a 14,300 lb snowplow on New Year's Day while clearing his property in Nevada. According to the Washoe County Sheriff's office, the 51-year-old actor was struck after helping a family member retrieve their vehicle from the snow and his snowplow rolled over him as he stood talking to the family member. He was airlifted from his home to the hospital, where he remains in the ICU recovering from his extensive injuries.
On Thursday, Renner shared an update on Twitter with a video showing his sister giving him a scalp massage and his mother watching with a smile. "He's so sexy," his sister teased, and Renner explained that he was having his first shower in "definitely a week or so. Gross." It seems there was a lot of blood being washed away, which both Renner and his sister jokingly commented on as his mom never seemed to take her eyes off of him. Because it doesn't matter how old your kids get, they're always your kid.
All in all, Renner was obviously so happy to have his family there with him. "A 'not no great' ICU DAY, turned to amazing spa day with my sis and mama. Thank you sooooo much," he captioned a video of the sweet moment on Twitter.
This was the second update Renner shared from his hospital bed since being transferred to the ICU. The first came on Wednesday, when the actor shared a photo on Instagram that gave a glimpse of some of his facial injuries, including a badly swollen eye and cuts on his face, with the message, "Thank you all for your kind words. Im too messed up now to type. But I send love to you all."
And there certainly was a whole lot of love being sent his way. "Tough as nails. Love you buddy," wrote Marvel castmate Chris Evans, while Chris Hemsworth wrote, "Speedy recovery buddy. Sending love your way!"
Ultimately, though, it is Jeremy Renner's family who is seeing him through his recovery. With spa days, with head massages, and with laughter.