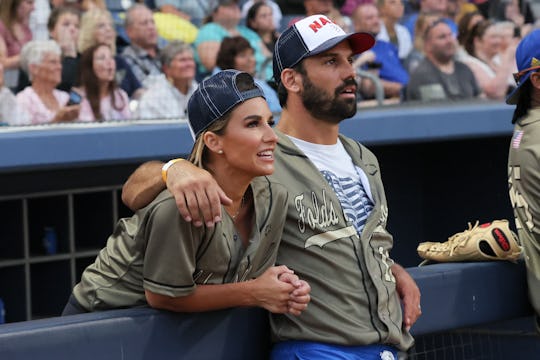 Terry Wyatt/Getty Images Entertainment/Getty Images
Jessie James Decker's Husband Is Worried A Vasectomy Will Take Away His "Power"
(That's not how it works.)
After giving birth to three children, country singer Jessie James Decker recently admitted that she thinks she's done having kids. In an interview with Us Weekly, Decker said more kids were "probably a no" for her at this juncture. But her husband Eric Decker might not be in the same spot; the "I Still Love You" singer says he refuses to get a vasectomy, so there may be more babies in their future after all.
Decker, who shares Vivianne, 8, Eric Jr., 7, and Forrest, 4, with retired NFL wide receiver Eric, explained to Us Weekly that he is not yet on board with the idea of no more kids. He "refuses to go make it permanent" by getting a vasectomy, she admitted. Why? He's worried about his "manhood" apparently. "I keep asking him, 'Go make that appointment' and he won't. He just won't do it," she explained. "He says it takes, like, his manhood away from him. So he's just gonna leave it, I guess."
This isn't the first time Decker has opened up about her husband's refusal to help prevent further pregnancies. She told Us Weekly in January 2022 that she was trying to get him to book an appointment to have a vasectomy but he would not. He won't book it. He will not book it," she explained at the time, while her husband explained, "It's a little power being taken. That's how I feel. I'm a little nervous about it, to be honest."
To be clear, a light Google search could reassure Eric Decker that vasectomies tend to be outpatient procedures done under local anesthesia that carry a very low risk of any complications. They are nearly 100% effective at preventing further pregnancy, less expensive than any form of female sterilization (tubal ligation, for instance), and they do not affect sex drive. Having more children, on the other hand, tends to seriously affect sex drive as they take up all of your time and energy.
Decker believes that her husband has another reason for avoiding a vasectomy. He might want another baby. Which she would have to give birth to, by the way. "Just the idea freaks him out," she told Us Weekly last year. "I also feel like there's a small part of him that doesn't want to cut it off permanently because maybe he wants another baby down the road and so that's what I think is happening."
What's not happening is a vasectomy for Eric Decker any time soon.