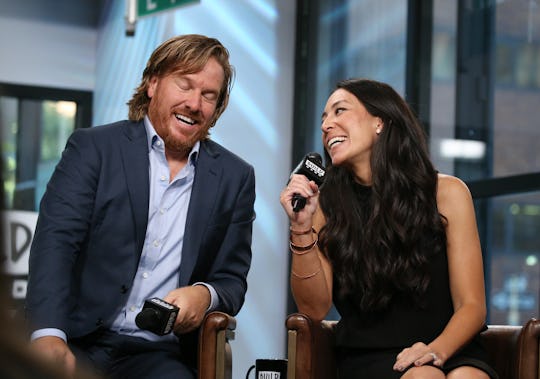 Rob Kim/Getty Images Entertainment/Getty Images
Joanna Gaines Posted A Hilariously Cute Photo Of Crew Rocking Cowboy Boots & Dino Shorts
The little boy has some serious style.
There's nothing quite like the toddler stage. Those strange questions, all those mysterious messes, and of course, the most adorable mismatched outfits. Fixer Upper stars Chip and Joanna Gaines are currently in the thick of it with their 3-year-old son Crew.
Joanna took to Instagram late last week to share a photo of her 3-year-old son, Crew showing off his artistic side. With his fashion choices, that is. In the photo his mom shared, Crew is rocking a pair of colorful dinosaur shorts, a brown camouflage shirt, and the cutest pair of brown cowboy boots. And it didn't stop there; Crew chose to accessorize his look with a green dinosaur hand puppet. As Joanna put it, Crew's outfit was definitely a "fashion statement."
But we apparently can't give Crew all the credit for this fantastic outfit. As it turns out, his dad might be responsible for Crew's sense of style. "I blame me...," Chip commented on the post. Whether or not Chip also rocks camo shirts with dinosaur mittens at home remains a mystery, but let's just hope a matching father-son photo op pops into our social media feed soon.
While Chip may be to blame for Crew's mixing of patterns and unique accessories, it's unclear where he got his obsession with dinosaurs. In addition to sporting dinosaur shorts and a puppet, Crew celebrated his third birthday in late June with a dinosaur-themed party, complete a life size brachiosaurus that was almost as tall as he is.
And while Chip and Joanna's youngest child seems to have his dad's sense of style, he might get some talents from his mom. Crew has helped Joanna in the kitchen on the set of her cooking show and picked out flowers for her newest Fixer Upper reveal. Chip has even called his youngest son the "boss baby" because he is always being taken to their job sites.
While his future in taking over his parents' Magnolia empire is still TBD, it's safe to say he's got a future as a style icon.