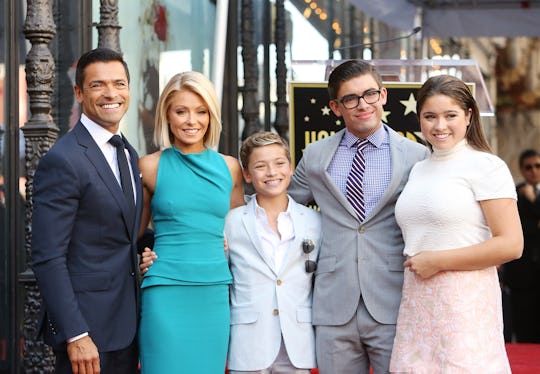 Michael Tran/FilmMagic/Getty Images
Kelly Ripa Jokes She & Mark Consuelos Are "Empty Nesters"
The parents of three have now entered the "contractual obligation phase of our relationship" as Consuelos is set to replace Ryan Seacrest on Live! with Kelly & Ryan.
Kelly Ripa and Mark Consuelos have made something of a career out of just being themselves. That rarest of things, a Hollywood couple who are still together, and as far as anyone can tell, still very much in love. Which is a feat made even more incredible by the fact that they are raising three children in the spotlight and oh yes, let's not forget, about to be working side-by-side full time when Consuelos takes over for Ryan Seacrest on Live! with Kelly & Ryan. How do they do it? Here's what you need to know about their sweet family.
Kelly Ripa and Mark Consuelos met on All My Children.
Ripa and Consuelos were just starting out with their acting careers in 1995 when they met during an audition on the set of All My Children. Consuelos was hired to play Ripa's love interest and their chemistry worked on and off screen. They eloped to Las Vegas in 1996 after one year together, and Ripa once admitted in an interview that she can't imagine being married to anyone else. "We're very lucky that we found each other, that's what I have to say," Ripa told AOL in a 2015 interview. "I would say to Mark, 'Who would we have married if not each other?'"
The couple are working together again after all these years now that Consuelos, who has been a frequent guest co-host on his wife's show, has joined as her permanent co-host. And now that they're officially "empty nesters," Ripa wrote on Instagram that they have hit "the contractual obligation phase of our relationship."
Their first child, son Michael, was born in 1997.
Ripa and Consuelos welcomed their first baby, son Michael, in June 1997 in New York City. According to a 2019 interview with People, Ripa believes that their oldest child has "the strongest moral compass," and is "just such a good and decent and thoroughly kind person."
Michael is a student at NYU and an actor on Riverdale.
Michael went to NYU in 2020 to study cinematography, but it turns out the acting gene is strong in this family. The 25-year-old, who looks just like his dad, took on roles in television series like Riverdale and The Goldbergs as he continued his studies. His parents celebrated his accomplishments when he graduated by taking him and the rest of the family on a trip through Europe, which his proud mom documented on Instagram, of course.
Their second child, daughter Lola, was born in 2001.
Ripa was working on Live! with Regis & Kelly when she welcomed daughter Lola, and it was an experience she was excited to share with her audience. Minutes after giving birth, in fact. "She was born at 6:30 a.m. but I called into the show, Gelman had scheduled it. He was like, 'Try to get out of the operating room by 9:15,'" Ripa remembered on a later episode of her show. "I was like, 'Guys, I have to be on the air.' Talk about content — you think you making eggs is impressive. I was like, 'If we could speed this c-section along!'"
Lola is a singer who wants to study abroad.
While older brother Michael stuck close to his family's New York City home when he went off to university, 21-year-old Lola went a different route. Her mom told her audience last August that Lola was "in Europe right now" looking for "an apartment for her study abroad." She also released her first single last August, "Paranoia Silverlining," and her parents couldn't have been more excited for her.
Their youngest, son Joaquin, was born in 2003.
Ripa and Consuelos' youngest son Joaquin arrived in 2003, and right away his parents noticed that he was the kind of person who was going to "keep you on your toes," they told People in 2020. "You'll have conversations with Joaquin where you realize you've just learned something new about the way he thinks." Joaquin was the last one in the family to leave the nest last year, heading off to the University of Michigan where he was made part of the wrestling team.
Joaquin's siblings are convinced he is the favorite.
Ripa admitted in 2021 during an episode of Live! that she had a favorite child, and her daughter Lola was convinced it was Joaquin. When Lola was asked by Ryan Seacrest who her mom's favorite was in 2017, Lola responded it was "Joaquin for sure" and backed it up with evidence. "Joaquin is cute, he loves to do so much physical activity, like every day. He's a hard worker, and he's just so nice."
Ripa insisted, "I don't have favorites, I only have least favorites," even as her daughter noted that "Michael would agree." Then Ripa basically confirmed it. "Joaquin is the nicest to us," she admitted.
Still, it looks like she's pretty fond of all three of her kids. So no complaining.