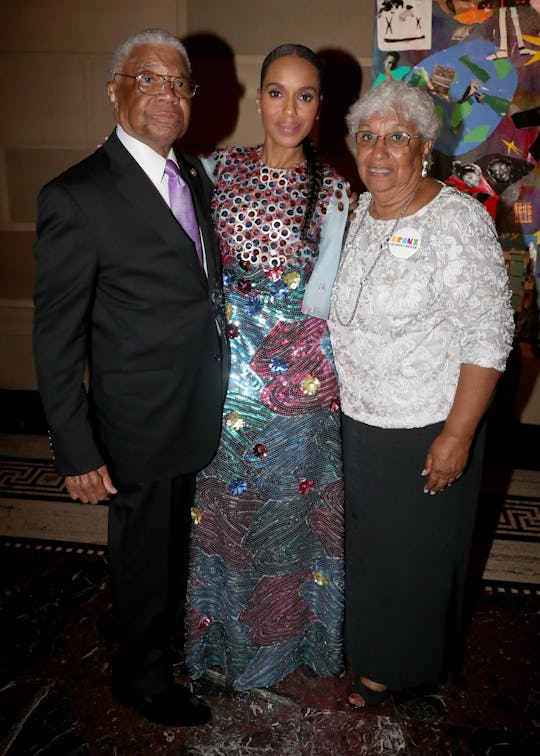 Johnny Nunez/Getty Images Entertainment/Getty Images
Kerry Washington Found Out Her Dad Is Not Her Biological Father
"My dad is, and will always be, my dad. My family is a loving work in progress."
When she was in her 40s, Kerry Washington uncovered a family secret that profoundly changed her sense of who she was. In her new memoir Thicker Than Water, the Little Fires Everywhere actress shares details about her childhood that still impact her today and reveals how she recently found out her dad is not her biological father
In a new interview with People, Washington said learning that the man who raised her, Earl Washington, is not her biological father "really turned my world upside down." Washington's parents — Valerie, a professor of education, and Earl, a realtor — decided to tell her the truth of her paternity in 2018 after she shared with them that she was going to be a celebrity guest on Henry Louis Gates Jr.'s PBS series Finding Your Roots, which would require her to take a DNA test.
"My parents told me that my dad is not my biological father. That I was born from a sperm donor." Washington said in an interview with TODAY's Hoda Kotb and Jenna Bush Hager on Sept. 26. "It was shocking, but there was also something strangely familiar. There was like a confirmation."
"It felt like, 'Well, this is a really exciting opportunity for me to learn more about who I am and who I want to be and to also make sense of my life,'" she told TODAY, adding that it led her to write her memoir as a form of "healing."
Speaking with People, Washington said knowing the truth allowed her to have a better sense of her identity. "When I got this information, I was like, 'Oh. I now know my story.' I didn't know what my story was, but I was playing the supporting character in their story." Washington told the magazine that her parents decided to use an anonymous sperm donor after struggling to conceive, but had planned to keep it a secret.
While it's been several years since she found out, Washington, a mom of three with her husband Nnamdi Asomugha, shared in an essay for the Wall Street Journal that she's still on a "journey" of self-discovery.
"In many ways I'm still discovering who I am. Six years ago my parents told me I was conceived with the help of an anonymous sperm donor. Since that time, I've been on a journey," she wrote for the Wall Street Journal. "Their news sparked a desire not only to figure out the identity of my donor but also to understand more about myself. I still don't know who the donor is, but my dad is, and will always be, my dad. My family is a loving work in progress. And I have found great peace in that truth."