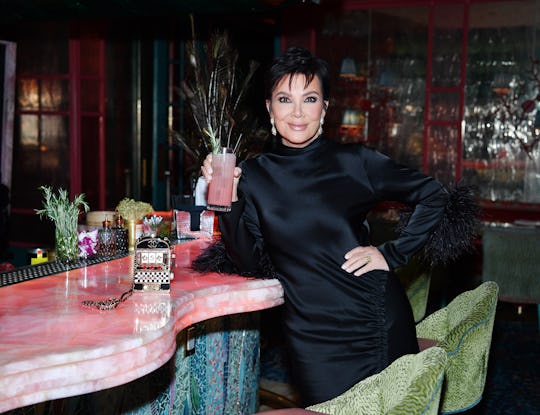 Denise Truscello/WireImage/Getty Images
Kris Jenner's Secret To Raising 6 Kids? A Vodka Every Day At 5 O'Clock
"Why do you think I had my vodka at 5 o'clock every day?"
However you might feel about momager extraordinaire Kris Jenner, she deserves some serious credit for raising six children. Starting an empire with those children aside, just the daily ins and outs of parenting so many people with so many different needs is nothing short of incredible. And just how did she do it, you ask? According to daughter Kim Kardashian, she had a secret weapon called vodka.
In a recent interview with Vogue Italia, the Skims mogul opened up about the admiration she felt for her mom raising her and her siblings, including sisters Kendall, Kylie, Kourtney, Khloé, and brother Rob Kardashian. She admitted that she has "so much respect for parents and now I can't believe what my mom went through," especially as she is currently raising four kids herself as a single mom and finds it to be "a lot" with four different personalities to contend with in her household. She told the magazine that she constantly asks her mom, "How did you do it? Six kids, six big personalities. We're all so different, how did you really handle it?"
Jenner's answer? "Why do you think I had my vodka at 5 o'clock every day?"
The Centers for Disease Control and Prevention (CDC) suggests women limit their alcohol intake to one alcoholic beverage per day, so as long as Kris kept her 5 p.m. vodka to one drink, she was well within that realm. In fact, some might even say she exercised considerable restraint keeping it to one a day while raising her six hugely famous kids, especially during the teen years.
Fortunately for her kids, anyone who has watched The Kardashians on Hulu knows that Kris Jenner is an absolute blast when she's had a cocktail. And she's not afraid to admit she really loves a vodka martini in particular. She even made a YouTube instructional video with youngest daughter Kylie on how to make the perfect martini with vodka preferably taken straight out of a Birkin bag. And being the incredibly savvy momager that she is, Jenner naturally has her own brand of martini glasses, so I think it's safe to assume that her 5 o'clock vodka was usually in the form of a martini.
Now that Kris Jenner's kids are grown and ostensibly able to care for themselves, she presumably doesn't rely on that 5 o'clock vodka to get her through. It's probably just for fun now.