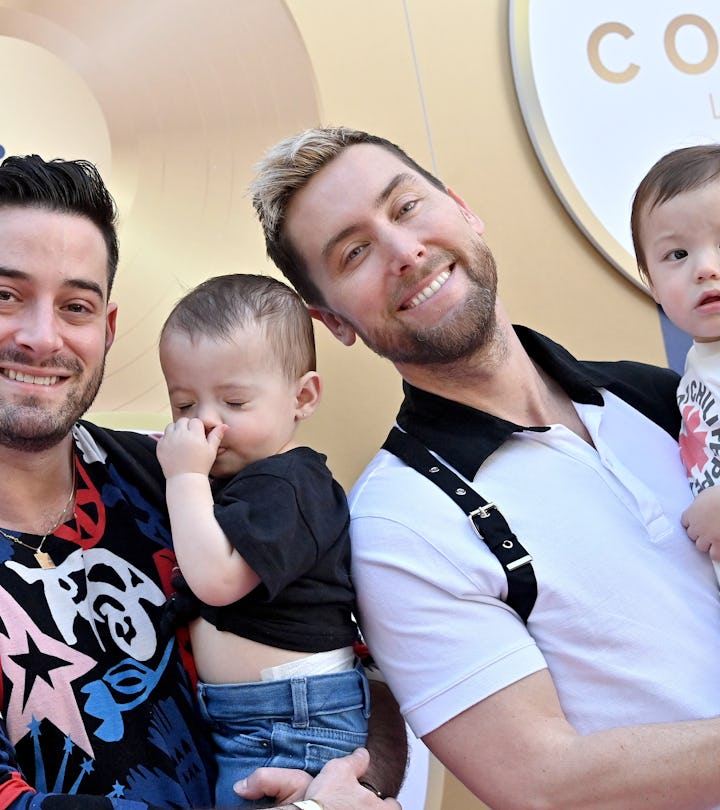 Axelle/Bauer-Griffin/FilmMagic/Getty Images
Lance Bass Reveals The Advice He'd Give Himself As A First-Time Dad
"Those first few months, as a new parent, I was so scared."
A glance at Lance Bass' Instagram shows that he's thriving in his latest era. The N*Sync icon, who has been married to husband Michael Turchin since 2014, is a father of twins, Alexander and Violet, who will be turning 2 in October. His teen heartthrob to America's Guncle trajectory is a delight, but that doesn't mean the transition was simple. "Those first few months, as a new parent, I was so scared," he tells Romper. "I felt too guilty to sleep because I just wanted to watch them 24/7. We had a night nurse, but I still would wake up with her at five in the morning just to be there."
Things have fortunately gotten a little bit more relaxed since then. But Bass does have some advice for his past self: "Sleep ... makes you a better father." When you can't follow that advice, however, there's always something new to get excited about. Like first words! It was "Apple" for Violet and "Dale," the name of the family dog, for Alexander. "I mean, [raising kids is] just all these fun, fun things that you didn't realize that you were going to be celebrating on a daily basis," says Bass.
But that same worrying from the early days never completely goes away; any parent can tell you that each new stage brings a new thing to worry about. "They're getting into everything right now and it's so fun to watch them, but also feels a little dangerous too," he says. One thing to worry about, especially as Alexander remains firmly in his "put everything in your mouth phase," is lithium batteries, also known as coin batteries. (Though frequently conflated with button batteries, though the two are quite different as only coin batteries contain lithium.) If ingested, these batteries can cause serious bodily harm within two hours, and even result in death. Data from the National Capital Poison Center indicates that in recent years, complications and fatalities related to battery ingestion have increased dramatically.
Bass recently joined with Duracell's #BitterIsBetter Campaign to raise awareness about this issue (which data suggests is on the rise), and encourage parents and caregivers to swap out standard lithium coin batteries in their home for Duracell's Lithium Coin Batteries with a bitter coating called denatonium benzoate. This non-toxic but incredibly bitter coating helps protect against accidental ingestion since children will be more likely to spit it out. Duracell will be providing up to $1 million of these distinctly unappetizing batteries through their website Duracell.com/BitterIsBetter through July 20.
Before his partnership with the campaign, Bass, like many parents, was unaware of the issue himself. "It didn't even dawn on me to think about that," he admits. "I just feel like as a new parent, I need to warn the other parents out there about this."
Of course parenting isn't all fretting and dangers lurking around every corner. As the twins get older, Bass is excited do more fun things with them. "I'm excited that they get to go to fun premieres with me," he says. Specifically, he's looking forward to the opening of the Baby Shark movie, later this year (in which he plays himself). "It's going to be fun that Daddy gets to be in the movie and they actually get to go to the premiere."
Bass is also a self-declared "theme park aficionado," but is waiting for the perfect moment to bring them along. "I'm trying to go as long as I can without having to take them to Disney or Universal. But once they're able to say, 'Mickey,' or any character, then I think it'll be time for them to have fun in a theme park."
Fortunately patience is something he says his kids have taught him above all else, so waiting shouldn't be too bad. "I am not a patient person. I need it done now. I just have to get things done quickly. With babies, it doesn't work that way," he says. "You have to really learn patience and they really taught me that."
But equally surprising is just how much fun the parenting gig can be. "Every day surprises me how great it is."