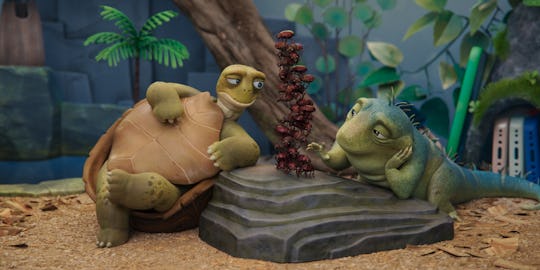 Netflix
You'll Recognize A Ton Of Voices In Adam Sandler's New Animated Movie Leo
Including Sandler's entire family.
Adam Sandler's new animated movie Leo focuses on the life of a 74-year-old lizard named Leo. Leo is a class pet who lives in an elementary school in Fort Myers, Florida with his best friend, Squirtle the Turtle. The pair sees new students come into their fifth grade classroom year after year, and as they get older, they grow more tired of it. This school year, however, Leo wants to make a break for it. The movie has a heartwarming and hilarious plot and is backed by a star-studded voice cast, including Sandler's own daughters.
Sandler himself also voices the movie's main character, Leo. But this lizard is no ordinary lizard; Leo can talk and eventually begins acting as a therapist for his classroom's students. It's a real twist for everyone, but the end result is something that resonated with Sandler.
"There isn't a kid in that movie I don't relate to in a certain way, just topics, things that go on at home, fear at school, fear of other kids liking me, thinking I'm not smart, all that stuff connects with me," Sandler said in an interview with The Nerds of Color. "The little girl who was going through the parents being divorced and having a hard time, all that stuff, I've been around that. So everybody's story means something to me."
The touching film, which is rated PG, is available to stream now on Netflix. Your kids might not be able to pluck out all the voices in the movie, but you certainly will. Here's who else voices characters in Leo.
Leo is available to stream now on Netflix.