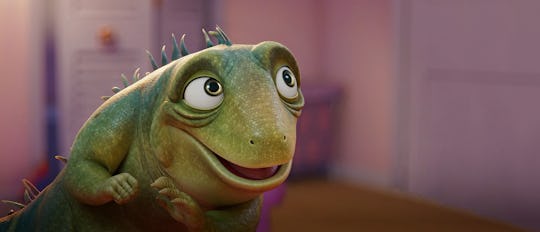 Adam Sandler Voices A Class Pet Going Through A Late-In-Life Identity Crisis In Leo
It's a coming-of-age story about a class pet.
Imagine what it must be like to be a class pet. Especially if that class pet is a lizard since lizards and turtles live for so long. They get a real bird's-eye view of all different kinds of classrooms, students, and even kids' houses because you know that's always a huge part of the class pet journey. A journey that is adorably documented in Netflix's new animated movie Leo starring none other than Adam Sandler as an aging lizard who is going through a late-in-life identity crisis. Here's everything you need to know.
An aging lizard finds his voice in Leo.
Leo, voiced by Sandler, has been living in the same Florida elementary classroom for decades, living beside his terrarium-mate turtle (voiced by Bill Burr) and watching the world go by without him. After a teacher casually points out that Leo is looking old, he realizes that he has been living in captivity since the '40s and worries that he has wasted his life. Especially once he finds out he has just one year left to live. With plans to escape in mind, Leo heads home with a student who has taken over responsibility for the class pet. But instead of escaping, Leo finds himself caught up in the real-life problems of the young, anxious students around him, including a very mean substitute teacher. Leo ends up on a different kind of adventure, one that might be even more rewarding than he expected.
The Leo trailer shows a dying lizard ready to take on the world.
The trailer for Leo sees the lizard realizing that he has very little time left on his earth and trying to figure out what to do with the rest of his life. He manages to go home with a student and plans to flee, but accidentally speaks in front of a little girl. From there, he becomes a sort of lizard guru to students, imparting his many decades of wisdom to the masses. All of whom appear to adore him.
Leo also stars Adam Sandler's two daughters.
The animated musical comedy has a cast that is jam-packed with huge talents including Cecily Strong, Jason Alexander, Rob Schneider, Jo Koy, and Stephanie Hsu. Leo also stars Sandler's two teenage daughters, Sunny and Sadie, who most recently showed off their seriously impressive acting chops in the Netflix movie You Are So Not Invited To My Bat Mitzvah.
What is Leo rated?
Leo is rated PG, which means that it's probably going to be a hit with the whole family.
Where can you stream Leo?
The sweet musical comedy about a lizard living out his bizarre bucket list at the end of his life will be available to stream on Netflix with a subscription. Leo drops on Nov. 21, making it the perfect movie to put on for the whole family this Thanksgiving. That way everyone can give thanks for their own class pets, and perhaps even imagine a world where that pet comes to life to solve all of our problems.