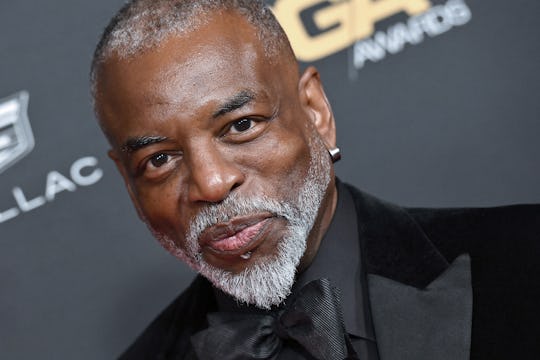 Axelle/Bauer-Griffin/FilmMagic/Getty Images
LeVar Burton Has A New Podcast That Will Fill The Reading Rainbow Void
Sound Detectives is the actor's latest for young fans.
Nobody wants kids to have fun learning more than LeVar Burton. At least, no celebrity comes to mind. The Star Trek star spent a whopping 21 seasons encouraging kids to foster their love of reading with his PBS series Reading Rainbow, which he developed and hosted from 1983 to 2007, and now he's finding a new way to reach kids. LeVar Burton's new podcast Sound Detectives is more than just a fun mystery series about a detective who investigates sounds that are going missing around the planet. It's yet another genius tool in Burton's limitless tool box to engage kids in paying attention to the world around them: by listening.
The premise of the new series from SiriusXM is simple, the Sound Detective needs to figure out why sounds around the world are going missing. "Waves aren't crashing, crickets aren't chirping, and the familiar jingle of the ice cream truck is but a distant memory," Burton explains in a clip from Sound Detectives. If the horrifying thought of not hearing the ice cream truck isn't enough to hook kids, there's more. "Follow Detective Hunch and his new sidekick Audie the Ear as the solve sound mysteries and track down the nefarious Sound Swindler," all, of course, with a little help from American treasure LeVar Burton.
The first episode of Sound Detectives dropped on Nov. 1 on Apple podcast, Spotify, and SiriusXM, and it already looks like Burton has another hit on his hands.
Reviews for Sound Detectives, which will come out every Wednesday for the next 10 weeks, are already stellar. "This is so clever and fun. I am using this as a tool to assist with listening skills with my grandson. No need for visual and using the same imagination. Well written and acted, recommend this highly," wrote one reviewer, while another user simply wrote, "Come on - It's Levar Burton - enough said!"
Enough said indeed. Burton has been entertaining adults with his podcast LeVar Burton Reads, where he reads short fiction he has hand-picked for his audience, for 12 seasons. But he has never fully left his role of educating and entertaining children. Last year, he spoke out about banned books and encouraged kids to "read the books they don't want you to — that's where the good stuff is. Read banned books!"
LeVar Burton: making the world a better place for us all.