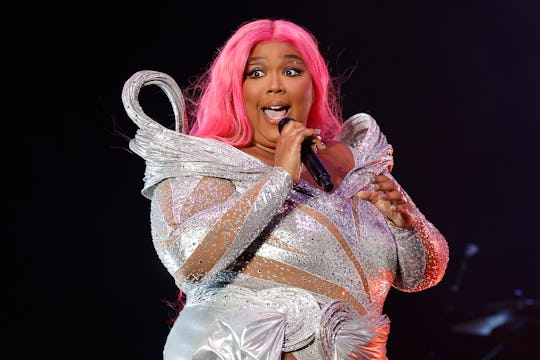 Taylor Hill/WireImage/Getty Images
Lizzo Hugs 7-Year-Old Super Fan On Stage A Year After Connecting On TikTok
"She said that I was special and she loved me."
Lizzo was on stage, performing on the XL stage in Hartford, Connecticut last week when she spotted a sweet little face in the crowd. A 7-year-old girl named Aria, who first caught the singer's eye on TikTok in 2022. The "About Damn Time" singer brought Aria up on stage in an emotional moment that meant so much to her, she posted about it on social media. And be warned, the whole story behind the moment will make you emotional.
Little Aria Cannon captured everyone's hearts when her mom Danielle posted a video of her daughter dancing to "About Damn Time" on TikTok. Including Lizzo's. The singer shared the video of Aria dancing on TikTok alongside her own reaction, where she started to tear up watching the little girl dance with absolute joy in time with Lizzo. "I'm crying cus this is EXACTLY why i do what i do!" the singer captioned the reaction video, adding in a special message to Aria herself, "i love you! Keep that confidence and beauty — no one can stop you!"
After the video went viral, Aria and her mom were going on with their lives when Danielle won tickets to see Lizzo in concert through a radio station contest she had previously entered. "I totally forgot I entered that contest," she told local news outlet NBC Connecticut, "so I was driving and I got a text and I told my husband to read it, and I was like 'what does it say?' and he's like '94.3 says you won two tickets to see Lizzo.'"
Of course she brought her daughter, who wore a homemade replica of the superhero costume Lizzo wore in the music video for her song "Special." and Aria was instantly recognized by concertgoers as the little girl from the video, according to Danielle. And even more emotional? Lizzo pulled her up on stage when she recognized her to give Aria a big hug.
The singer posted photos from the special moment on Instagram with the caption, "Everything I do is for HER. So that she grows up knowing how to love herself radically."
Lizzo had some sweet words of wisdom for Aria, who told NBC Connecticut, "She said that I was special and she loved me and nothing could stop me. She said 'keep that same energy you always have.'"
If Aria ever thought for a second that she wasn't special, Lizzo put an end to that doubt with one perfect night.