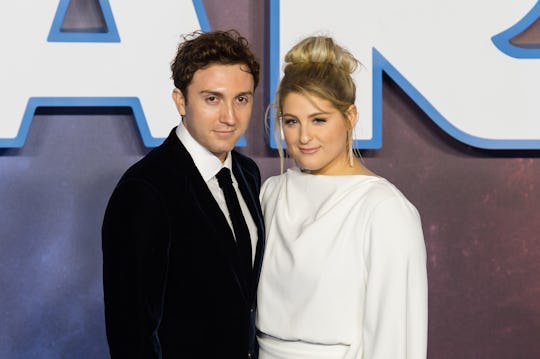 Future Publishing/Future Publishing/Getty Images
Meghan Trainor Shares Baby News After Dropping Hints On TikTok
The singer-songwriter is expecting her second child with husband Daryl Sabara.
Nearly two years after giving birth to son Riley, Meghan Trainor has announced that she and husband Daryl Sabara are going to welcome their second baby. The singer shared her excitement about the arrival of baby number two with TODAY.
Trainor spoke to TODAY on a video call and her Spy Kids husband Sabara popped in to help her share their exciting development on Monday. "I'm pregnant!" Trainor enthused. "We did it!" The singer, who also revealed that they knew the sex of their baby but weren't ready to share, went on to tell People that two babies are basically just the beginning as far as she was concerned. "What a blessing," the 29-year-old mom said of her second pregnancy. "I'm just so grateful I can get pregnant. And I'm like, 'I'm crushing it. This is amazing. This is my dreams.' I'm halfway there — I want four kids!"
Ahead of the formal announcement, she did drop fans a a hint on TikTok, showing the faces of her friends and family when she told them baby news. Apparently she's been keeping this pregnancy a secret for awhile, because we see Christmas decor in the background of some of the clips!
Trainor revealed to Romper last summer that she was, indeed, planning to start trying to get that family of four started in the fall. Even turning their attic into a school room for their future children. She was, in fact, hoping for twins. "I would love twins," she told Romper. "A two-for-one deal."
And how does Riley, who was born in Feb. 2021 and is nearly two years old, feeling about becoming a big brother? "We try to tell him, 'There's a baby in the belly,' but then he points to his belly now and is like, 'Baby,'" Trainor told People. "And we're like, 'Oh no, it's not in yours — it's in Mama's belly!'"
The expectant mom took to Instagram on Monday as well with a photo of her kissing her sonogram photos and the message, "BABY #2 COMING THIS SUMMER."
Trainor also told TODAY that she had written a book called Dear Future Mama, which will be out on April 25, a sort of fun guidebook for expectant mothers based on her own experiences during her first pregnancy. It's a book she presumably would have appreciated herself while going through her first pregnancy during Covid-19.
"When I was pregnant, I felt very alone," Trainor said of her first pregnancy experience. "It was also Covid times so I didn't have any friends that were pregnant with me, and I just remember being like, I don't want anyone else to feel like that. So now I can be your future bestie and I can help you and tell you all my TMI details of my pregnancy and how crazy it was."
Now that she's pregnant for a second time, we can only hope that she'll be sharing more TMI details. So much fun.