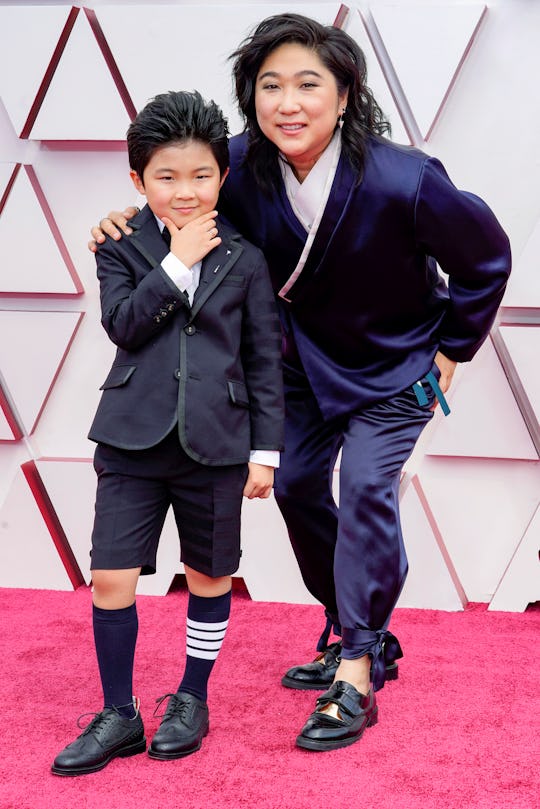 Pool/Getty Images Entertainment/Getty Images
9-Year-Old Minari Actor Alan Kim Had So Much Fun At The Oscars
It's the mismatched socks for me.
No matter how old you are or how famous you happen to be, getting to attend the Oscars is a big deal and you've just got to celebrate. So for his first red carpet, Minari actor Alan Kim made a splash, rocking a pair of mismatched socks and gushing about the amazing gifts he'd recently gotten for his birthday.
The Minari scene stealer walked the red carpet in his finest Thom Browne blazer, shorts, and mismatched socks, aka the perfect outfit for a kid who just turned 9 years old on Friday. During E!'s red carpet pre-show on Sunday, Kim said that he had a "really good" birthday, which included going out to dinner and receiving a few super cool gifts, including a "FitBit for kids, a new bike obviously, a new iPad Mini 5, and that was really cool," he said.
While he didn't get to ride that new bike down the red carpet, Kim did get to walk his dog before heading off to the big show. "It's time for the Oscars, but first I have to walk Cream," he wrote in the caption of an Instagram photo, posted to his account on Sunday. "Now it's off to the show!"
Once he was at the Oscars, Kim showed off his personality with his fun poses, funky sense of style, killer dance moves, and just genuine happiness to be on the red carpet alongside producer, Christina Oh.
While Minari was nominated for six Oscars on Sunday night, Kim was the clear frontrunner to win the award for Best Dance Moves On The Red Carpet.