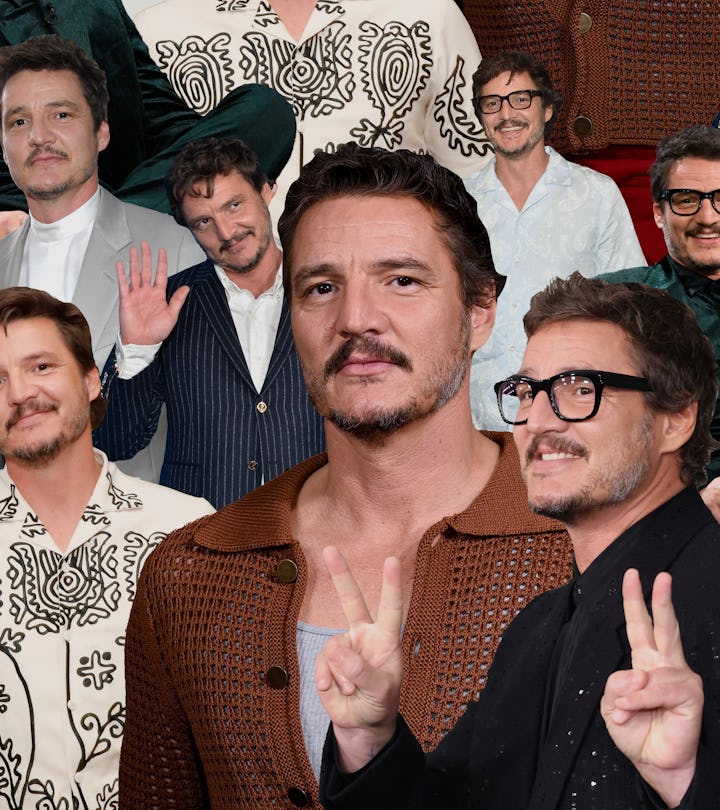 Pedro Pascal May Not Be A Dad, But He's Our Daddy
"Daddy," he assures us, "is a state of mind."
With The Last of Us a hit for HBO and Season 3 of The Mandalorian returning to Disney+, Pedro Pascal is everywhere we look and friends, what a time to be alive. But the Chilean-American actor's appeal goes beyond his handsome, handsome face. Indeed, so much of our attraction comes from his penchant for choosing (and there's no other way to say this) DILF-y babysitter roles. Even though he's not actually a dad, Pedro Pascal is a daddy. Our daddy. The internet has declared it.
Between playing Din Djarin — the mysterious, badass, nurturing surrogate father to Baby Yoda — on The Mandalorian and Joel Miller — the tortured, badass surrogate father to Ellie Williams — on The Last of Us, it seems that being a tough guy who finds his soft spot in the form of a child is his thing and we are here for it. You know who else is here for it? Pedro Pascal.
In true daddy fashion, he is a spectacularly good sport about constantly being fawned over in this manner, from telling Star Wars fans he is "honored to be your space daddy" to wanting reassurance that he is, in fact, the "daddiest daddy." On a recent appearance on Saturday Night Live, he nodded to his internet title alongside long-time friend Sarah Paulson, who says in a sketch "he's daddy, I'm mommy and we're all a happy family: no crumbs left." And then there's my personal favorite moment, when he impishly tells Entertainment Tonight that he was, indeed, "your cool, slutty daddy."
In fact, why don't we go to video on that last one...
That's the stuff.
Twitter is positively awash with supercuts of Pascal basking in his daddiness...
...and memes...
...and some Johnny-Come-Latelys...
I must say that normally, at this point in the life-cycle of a meme, it's easy to get tired of it. Like "Har, har, har *eye roll* yas, king, you're my daddy." But I think fashion blog Tom + Lorenzo put it best in their coverage of Pascal's ensemble at the London photo call for The Mandalorian Season 3.
"We'd happily stop calling Pedro Pascal a slutty daddy if he'd stop dressing like a slutty daddy."
I haven't been able to find any strong evidence that IRL moms are more prone to Pascal's daddy charms and, believe me, I have done extensive research at this point. (I really don't want to think about what typing "Pedro Pascal daddy" and "Pedro Pascal slutty daddy" have done to my algorithm... but also I'm kind of excited to find out...?) Adoration of Pascal as daddy seems to be fairly universal. But, as a mom, I have to imagine that other women who, as a group, have a unique understanding of nurturing just get him on a special level, you know? Like, we'd raise your TV babies with you. Not that you need our help. You're so capable... so capable and strong...
And it would seem that, like velociraptors in Jurassic Park, daddies do not operate on their own: in Pascal's case, he is often seen paired with friend and fellow daddy/actual daddy/our internet boyfriend Oscar Isaac.
But for Pascal, it's not a contest. When asked by Vanity Fair — while hooked up to a lie detector — whether he or Isaac was the bigger daddy, Pascal declared himself the winner even though Isaac has two kids.
"Daddy is a state of mind, you know what I'm saying?" he looks cheekily at the camera. "I'm your daddy."
No lies detected, daddy.