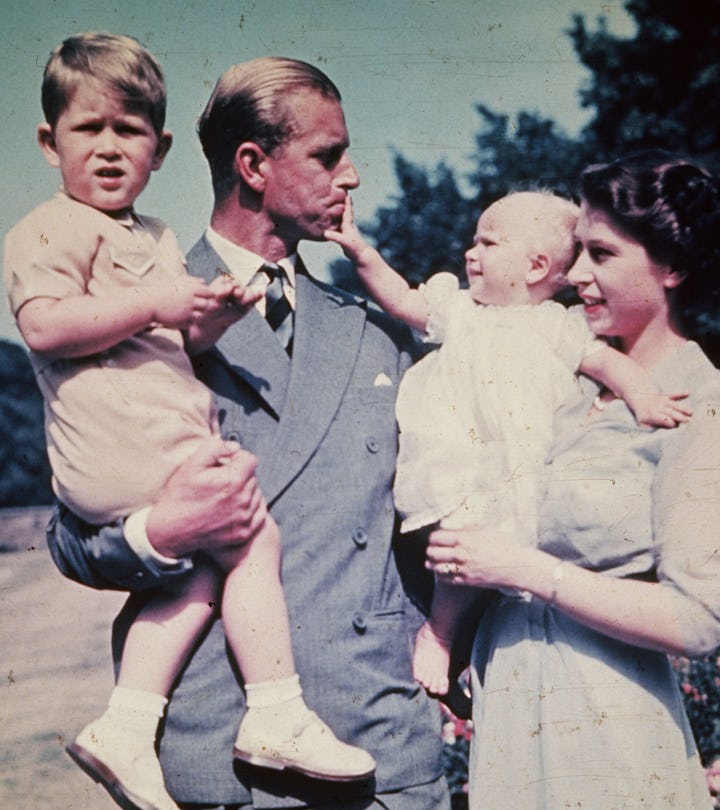 Keystone/Hulton Royals Collection/Getty Images
Photos Of Prince Philip With His Kids, Grandkids, & Great-Grandkids
The Duke of Edinburgh, who died this morning at Windsor Castle, was the patriarch of one of the most famous families in the world.
Prince Philip, the Duke of Edinburgh, was married to Queen Elizabeth for a stunning 73 years, so it's no great surprise that there are endless photos of the British royal family's patriarch with his children, grandchildren, and great-grandchildren. Prince Philip died this morning at the age of 99 at Windsor Castle, and as the world mourns the loss, so too does his family.
Prince Philip first became a father when his wife, who was then Princess Elizabeth, gave birth to the heir apparent, Prince Charles, in 1948. Just two years later the couple welcomed their only daughter Princess Anne, followed a full 10 years later by another son, Prince Andrew, in 1960. Finally the couple had their youngest child, Prince Edward, in 1964. Prince Philip made history with Prince Edward's birth by being in the room when he was born at Buckingham Palace, according to an excerpt from royal biographer Ingrid Seward's book My Husband and I: The Inside Story Of 70 Years Of Royal Marriage, per Town & Country. "The Duke of Edinburgh was actually holding his wife's hand as their youngest was born," Seward wrote. "Philip became the first royal father in modern history to witness the arrival of one of his children."
Over the ensuing five decades, the 99-year-old father of four saw those children become parents themselves, then grandparents. And he was there every step of the way.