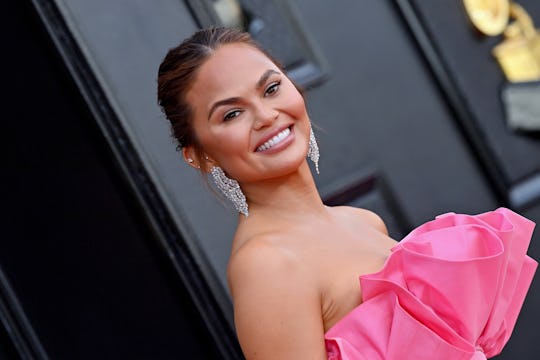 Axelle/Bauer-Griffin/FilmMagic/Getty Images
Chrissy Teigen Says She Wants To Wax Before Giving Birth To "Do The Doctors A Solid"
But only if it's not too painful.
Chrissy Teigen is reaching out to fans for a very specific reason at this late stage of her pregnancy. She is hoping to do a little maintenance "down there" ahead of delivering her baby, and she's wondering if it's going to be extra painful. Apparently she can handle it if it's a bit worse, but loads worse? She's not interested.
The Cravings cookbook author is closing in on her due date and getting ready to make 6-year-old daughter Luna and 4-year-old son Miles a big brother and sister. There tends to be a whole lot going on at this late stage of pregnancy, and Teigen has one particular task on the mind; getting waxed. "I know it's definitely more painful pregnant," she wrote on Twitter on Wednesday, "but is waxing down there while pregnant a litttttle bit worse or a lot a lot worse? I can do a little bit worse."
Teigen, who is married to Grammy award-winning singer John Legend, is not wrong about bikini waxing being more painful during pregnancy. Healthline explains that the body produces extra blood and fluids to help your baby grow, which makes your skin more sensitive. How much more sensitive, however, is up for debate.
Teigen received plenty of advice from her followers, including one person who wrote "Just trim, it's all good." Teigen responded, "I can't see it! Lol." Another person questioned why she was bothering, and Teigen explained she was "trying to do the doctors a solid."
As far as the actual pain level, the responses varied. Emily Oster, professor of economics at Brown University and the author of parenting books like Expecting Better, Cribsheet and The Family Firm, chimed in: "It's a lot worse." Another mom contradicted by writing, "It's honestly not that much worse, plus you cant see what's going on which I find helpful."
Teigen has long had a history of being pretty transparent about her life on social media, particularly when it comes to parenting and pregnancy. "I feel like I do talk about being a mom a lot and I post pictures of them a lot," she told Romper last year, "but I often pull myself back because I'm like, 'Oh, my gosh, am I that annoying mom now that's like her whole life is her kids and that's all she talks about?' So I'm so excited that I get this chance to actually be asked about it."
We'll have to wait and see where she lands on the waxing. Whatever Teigen decides, I'm sure she'll let us know.