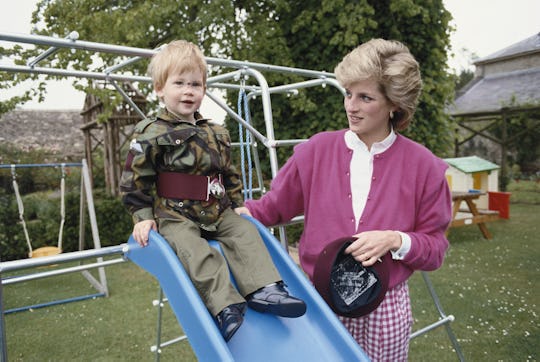 Tim Graham/Tim Graham Photo Library/Getty Images
25 Of Prince Harry's Most Precious Childhood Moments
Travel back in time with me for a moment, won't you?
Now that he's a father himself, the Duke of Sussex seems to have a pretty clear idea of how he wants his little boy to be raised. Away from the public eye looks to be on the list of priorities, as well as making the world a better place for little Archie. Much like his own mother wanted for him, and in some of Prince Harry's childhood moments caught on camera, it's evident that Princess Diana did a pretty incredible job in the few years she had with her youngest son. Because he looked like the sweetest, happiest, most loving little guy on the planet.
The youngest son of Prince Charles and Princess Diana was born in 1984, just two years after his big brother Prince William entered the world. As the younger brother of the heir to the throne, Prince Harry was in a very unique position. He was naturally in the spotlight nearly as frequently as his older brother, but since he was directly in line to the throne his childhood looked slightly different. Or at least, that was the impression he gave as a little boy. When he was out with his mother, Princess Diana, he always seemed to be smiling. Easygoing. Perhaps a little mischievous. And ultimately, entirely lovable.