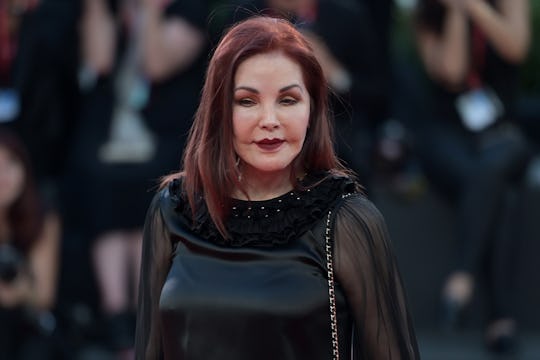 picture alliance/picture alliance/Getty Images
Get To Know Priscilla Presley's Kids & Grandkids
The 78-year-old's life is being chronicled in Sofia Coppola's Priscilla.
Priscilla Presley has been living her life very much in the public eye since she married Elvis Presley when she was just 21 years old in 1967. Her life, which has been recreated in the new biopic Priscilla by Sofia Coppola, has been inextricably tied to the late icon's for her entire adult life. She was always the wife of Elvis, or the ex-wife of Elvis. But in reality, Priscilla Presley is perhaps more identified as a mother and a grandmother than anything else. As the new biopic, which is based on her 1985 memoir Elvis and Me, is set to premiere on Nov. 3, here's what you need to know about her family.
Her daughter Lisa Marie Presley was born in 1968.
Elvis and Priscilla Presley welcomed their only child together, daughter Lisa Marie Presley, in 1968. She was born in Memphis, Tennessee and spent the early years of her childhood at Graceland. Priscilla and Elvis Presley separated in 1972 after five years of marriage, but they were still putting in loads of effort to co-parent their little girl. "It was like we were never divorced," Presley told People one year after his death. "We would say 'Mommy said this' and 'Daddy said that.' That helped Lisa to feel stable." Lisa Marie was just nine years old when her father died in 1977.
Lisa Marie Presley died in 2022.
Lisa Marie Presley died of a heart attack at the age of 54 in 2022. "It is with a heavy heart that I must share the devastating news that my beautiful daughter Lisa Marie has left us," Priscilla Presley said in a statement to the media on Jan. 12. "She was the most passionate strong and loving woman I have ever known. We ask for privacy as we try to deal with this profound loss. Thank you for the love and prayers. At this time there will be no further comment."
Priscilla Presley welcomed son Navarone Garibaldi Garcia in 1986.
Nearly a decade after giving birth to Lisa Marie, Priscilla Presley welcomed her second child, son Navarone Garibaldi Garcia, in 1986 with then-partner, Brazilian producer Marco Garibaldi. Garcia, much like his half-sister Lisa Marie Presley, is a musician. He is the frontman and co-founder of the band Them Guns, which has a new single coming out this year. In 2022, he married his longtime girlfriend Elisa Achilli.
Her granddaughter Riley Keough is a model and actress.
Priscilla Presley became a grandmother for the first time when Lisa Marie welcomed oldest daughter Riley with ex-husband Danny Keough in 1989. Riley Keough, now 34 years old, has become a star in her own right. She played the lead character in Daisy Jones & The Six, and has worked as a model and an actress for several years.
Her grandson Benjamin Keough died by suicide at 27.
Sadly, Priscilla Presley's only grandson, Lisa Marie's son Benjamin Keough, died by suicide in 2020 at the age of 27 years old. The devastated mom wrote about losing her son for in an essay for People, sharing at the time that she has "dealt with death, grief and loss since the age of 9 years old."
"I've had more than anyone's fair share of it in my lifetime and somehow, I've made it this far," she continued. "But this one, the death of my beautiful, beautiful son? The sweetest and most incredible being that I have ever had the privilege of knowing, who made me feel so honored every single day to be his mother?"
"It's a real choice to keep going, one that I have to make every single day and one that is constantly challenging to say the least ... But I keep going for my girls," her essay continued. "I keep going because my son made it very clear in his final moments that taking care of his little sisters and looking out for them were on the forefront of his concerns and his mind. He absolutely adored them and they him."
Priscilla Presley's youngest grandchildren are Harper and Finlay Lockwood.
Priscilla Presley's youngest grandchildren are Lisa Marie's 14-year-old twin daughters Harper and Finlay, who she welcomed with ex-husband Michael Lockwood. The young girls started high school this fall, according to an Instagram post shared by Presley, and have mostly been kept out of the public eye. They have been living with their father since their mother's death, but spent time with their grandmother in June and had a photo taken with her, along with older sister Riley Keough.