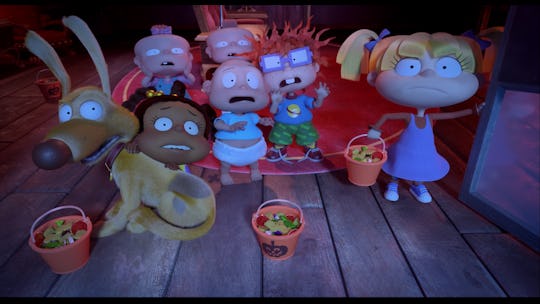 Paramount+
You Can Stream A Brand New Rugrats Halloween Episode Right Now
Spoiler alert: Someone in the crew sprouts fur and tail!
The Rugrats are not only back, but they're returning with a new Halloween special that both kids and adults can get excited about! A festive Halloween-themed Rugrats episode has arrived on Paramount+, so here's everything you need to know.
The Halloween Rugrats Episode Premieres On Oct. 7
That's right, you can stream the spooky episode right now on Paramount+. In the half-hour Halloween-themed episode titled "The Werewoof Hunter," Tommy, Chuckie, and the rest of the diaper gang must rescue Angelica after she turns into a werewolf at a Halloween party. The babies also must save their parents as they disappear one by one. Spooky!
This Halloween episode is part of Season 1 of the classic Nickelodeon show's revival on Paramount+. (The show was recently renewed for Season 2!) The special Halloween episode is also part of Nickelodeon and Nick Jr.'s HallowScream special.
To watch the new Rugrats Halloween episode, you will need Paramount+. Subscriptions for the streaming service start at $4.99 a month.
Paramount+ Has More Kid-Friendly Halloween Specials To Stream
In addition to Rugrats, your kids might also like to get into the Halloween spirit with PAW Patrol's "Pups Save the Trick-or-Treaters" episode, Blue's Clue's "Blue's Big Costume Party," and Dora The Explorer's "Blue's Big Costume Party." SpongeBob Squarepants also has a "Boo-kini Bottom" special which includes a compilation of Halloween specials such as "The Night Patty" and "The Legend of Boo-Kini Bottom."
Season 2 Of The Rugrats Revival Is Coming
The premiere date for Season 2 has yet to be announced but it's promising to bring "more adventures with Tommy, Chuckie, Angelica and the rest of the Rugrats for kids and families to enjoy," as Paramount's Tanya Giles told Deadline. And Nickelodeon Animation President Ramsey Naito said the next season is going to dive deeper into the "secret life of babies and their unsuspecting parents," but the friendship and family themes will remain at the forefront.
In the meantime, treat yourself and your little ones to a special, spooky episode.