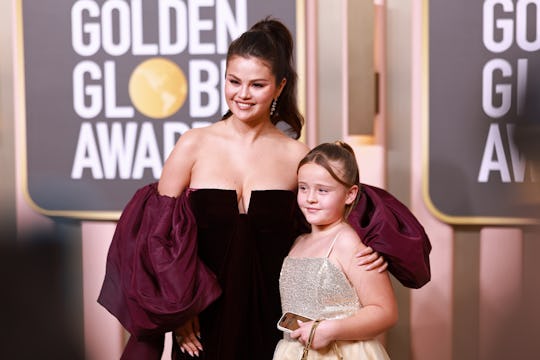 Matt Winkelmeyer/FilmMagic/Getty Images
Selena Gomez Brought Her 9-Year-Old Little Sister As Her Date To The Golden Globes
The actress calls her sister her "rainbow in her cloud."
Selena Gomez made this year's Golden Globe Awards a family affair. The Only Murders in the Building star, who was nominated for Best Actress in a TV Series, Musical, or Comedy, took her little sister Gracie Elliott Teefey, 9, with her to the ceremony, and two looked like they had a blast together.
Gomez posed on the red carpet in a custom, velvet Valentino Haute Couture design while Grace wore a dazzling gold dress. But the spotlight fashion product for the 9-year-old was her Prada Cleo satin purse, which runs for $3,900 on Prada's website. Oo la la.
This is not the first time Gracie has accompanied her big sister on the red carpet. Gracie joined Gomez at Disney's Frozen 2 premiere in 2019 and got a sweet pep talk from her sister before her big debut. "I bent down and I looked at her before we stepped on and I said, 'If you get nervous, if you get overwhelmed, just pull my hand and I'll take you off immediately.' And she's like, 'K,' and walked straight on the carpet and has her full moment with the feathers," Gomez told BBC One's music show Sounds about prepping her little sister for the red carpet. "I'm standing there, and I'm like, 'Gracie, get me in the picture too."'
Gomez is very close to her little sister and called her the "rainbow in her cloud" during a recent interview with Elle.
"I have to basically watch this little person grow into a human being and there's no better feeling in the world," she told Elle. "I kind of feel like I'm a parent in a way even though I'm not. It's so rewarding to see that life was so simple at one point, and I want to enjoy life sometimes the way she enjoys life."
The "Lose You to Love Me" singer also shared with Elle that she picks her up from school and playdates. "My sister will go and sit down with a girl who nobody's sitting with and she'll just sit down with her and ask her how she is," she says about Grace's personality.
Grace also keeps her older, who is over 20 years her senior, young. In a hilarious TikTok video from August 2021, Grace attempts to show Gomez how to make a post. The clip begins with Gracie staring into the camera to tell her sister, "You embarrass me."
"I just deleted the whole TikTok," Gomez cries out, while Gracie laughs next to her. Well, thankfully they have photos from their sweet sisters' night out at the Golden Globes!