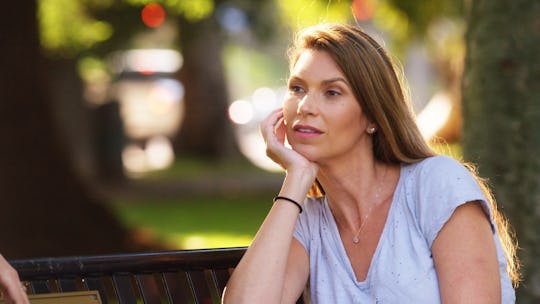 Netflix
Selling Sunset's Maya Vander Shares She Lost Her Baby At 38 Weeks
"You will always be in our heart baby Mason."
In a heartbreaking Instagram post, Selling Sunset's Maya Vander shared that she had suffered the loss of her baby at 38 weeks pregnant. Vander and her husband were expecting their third child together, a boy they planned to name Mason. Sadly, she announced on Friday that her baby was a still birth.
"Yesterday was the hardest day of my life. I had a still birth at 38 weeks," Vander wrote on Instagram. "I always heard of it but never imagined I'll be part of the statistics. Instead of delivering a baby, I get to go home with a memory box… I do not wish this on anyone. What was a regular weekly checkup turned into a nightmare that I never imagine will happen to me."
Vander went on to explain that she was sharing this information in an effort to stave off some upsetting questions, no matter how well-intentioned. "Given I share my pregnancies in the show I knew I'll have to post about this and avoid the 'when is your due date' question. You will always be in our heart baby Mason."
Alongside her message she shared a photo of the memory box she was given to take home after losing her baby.
Maya Vander experienced a still birth at 38 weeks.
Vander announced that she was expecting her third child in July in a photo of her husband David holding her belly and the caption, "Here we go again...baby number 3 will be our Christmas/ Chanukah present!" The couple are already parents to 2-year-old son Aiden and 19-month-old daughter Elle. She was four months pregnant at the time.
The reality star and realtor's heartbreaking post received an outpouring of support and sympathy from her Selling Sunset co-stars. Chrishell Stause wrote, "This is the unimaginable. It's hard to find words. My heart aches for you and your family. You are surrounded by so much love. Here for you for absolutely anything you need." Heather Rae El Moussa wrote simply, "Maya I love you so much," while Vanessa Villela wrote, "I'm so sorry Maya! I love you very much and I'm here for you. praying for you and your family. Baby Mason will always be loved."