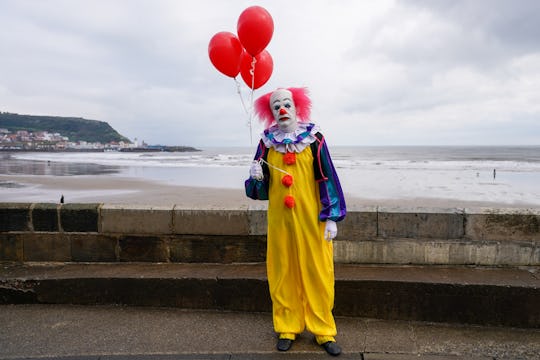 Ian Forsyth/Getty Images News/Getty Images
I Watched Stephen King's It With My Kids For Some Godforsaken Reason
"It's a scary clown movie!" I told them. "I watched it when I was your age."
It was a rainy day in October when I rented a movie from Blockbuster to watch with my sons, who were ages 8 and 9 years old at the time. Their little cherub faces. Their cowlicks. Their trust in me always. It was a Sunday. Their older brothers were busy being teenagers, and we were left hobbled by missing them — their heavy energy and their broad shoulders, the way they brought the outside world in with them when the three of us really only seemed to know our little world. Missing their coolness, their sharpness. It was raining and boring. A regular old day. The same kind of day little Georgie Denbrough was experiencing when he was presumably eaten alive by the ghoulish clown Pennywise in Stephen King's It. Which we rented from Blockbuster. The original miniseries. All four horrible, life-altering, nightmare-inducing hours of it.
Normally, I am not this mom. I was diligent, nay, militant about keeping my kids away from a whole host of shows that I felt were inappropriate. I didn't let them watch Family Guy or American Dad or Borat or South Park like their friends were all watching. Those were shows that could shape the men they might become. The jokes felt too formative to me, like if they watched those shows that would become their new personality, and I didn't want them to become poop joke boys who talked about women's bodies all the time.
But for whatever reason, I thought It was a good idea to curl up on the sofa and watch with two children. They thought it was a good idea at first too, probably because I really talked it up. "It's a scary clown movie!" I told them. "I watched it when I was your age." This was a lie I didn't know I was telling. I watched this as a 19-year-old woman under the covers on the little television in my room and didn't sleep for a week. I decided I must have watched it when I was their age because I so desperately wanted to have this weird horror bond with my children and they so desperately wanted to bond with me in the same way.
Why? Why did I think my precious sweet boys should watch it? Watch Pennywise drag little Georgie down to the Bright Lights, watch him stalk fellow young children Bill (Georgie's traumatized older brother) and Beverly and Eddie and Richie and Ben? Also please know my two have an older brother named Ben, which they brought up nervously more than once while we watched the movie. And let's not even get into the fact that young Beverly was clearly struggling with abuse at home while Ben's father had died and the entire group dealt with the trauma of their experience well into adulthood. An element of the story they now tell me they mercifully didn't quite understand as little boys.
We all laughed nervously and continued to watch, taking frequent washroom breaks, during which they asked me to stand outside the door and left it open a crack. For no specific reason, they said, just because they felt like talking.
Because they were too busy thinking about every storm grate and every opening in our household where Pennywise might be lurking. And what's worse, they never asked me to turn it off, and I never turned it off. We watched the whole thing. All of us quieter and quieter on the sectional in the rec room. All of us closer and closer under the blanket, first our bodies then our noses then our eyes covered every time Pennywise was on screen.
Which was a lot. If you watched the 2017 film version, you might not realize that in the TV version, Pennywise was truly just hanging out and having entire scenes and conversations with the adult versions of the gang he had terrorized as kids. Taunting them, pulling out those scary fang teeth and hissing every now and then if someone told him defiantly (but not convincingly) that they weren't scared of him. "He looks so stupid," my youngest laughed with false bravado while peeking at Pennywise dangling from a street lamp. "What a dummy." We all laughed nervously and continued to watch, taking frequent washroom breaks, during which they asked me to stand outside the door and left it open a crack. For no specific reason, they said, just because they felt like talking.
They slept in my bed that night, and I was glad for it. "Sleepover!" I said like our family bed was a choice we were making for no particular reason. As though any of us could have slept alone. Oddly enough, they moved on from the movie faster than I did back then. When I asked them about it now, they remembered being scared but "not that scared," which is most likely a lie they don't know they're telling. For me, I thought for weeks about watching that movie with them. It was like I watched it with three sets of eyes, triple terrified.
I finally think I sort of know why I watched It with them. It's a Gen X thing. Our generation was left to watch movies in front of the television while our parents were busy all the time, and I wanted them to see I wasn't too busy for them. That I was right there, ready to be present. That I wouldn't leave them alone to watch such a terrifying movie. Instead I would be right there under the blankets with them. Our hearts in our throats, our minds racing, until their older brothers came home and said, "What the heck are you doing in here?" and chastised me for putting on a scary movie for my children.
If only they had come home four hours earlier, we all would have been saved.