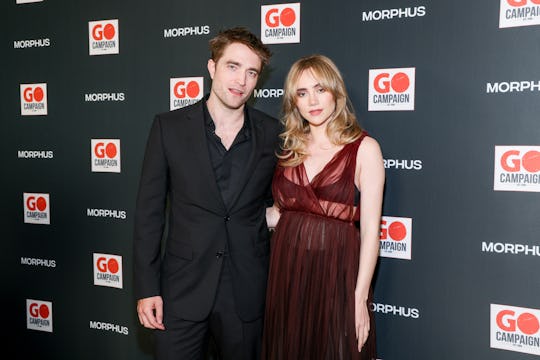 Variety/Variety/Getty Images
Suki Waterhouse & Robert Pattinson Are Expecting Their First Baby
The model and singer announced the exciting news in a sparkly pink mini dress.
Suki Waterhouse and Robert Pattinson are going to be first-time parents. The model and singer recently announced that she and the Twilight actor are expecting their first baby by casually showing off her baby bump at an event in Mexico City.
Waterhouse took to the stage at the Corona Capital Festival in Mexico City on Sunday in a sparkly pink minidress, a feathered coat, fringe-trimmed boots, and glittery tights, an outfit she said was meant to distract from her baby bump. In a video shared by a fan on X, Waterhouse said, "I'm extra sparkly today because I thought it might distract you from something else that's going on," before opening her coat to reveal her baby bump. The crowd cheered, and the expectant mom laughed before admitting, "I'm not sure if it's working."
She did not share any further information about her pregnancy like a due date or the baby's sex, but we do know this will be the first baby for the couple. There have been rumors circulating online for some time that Waterhouse and Pattinson were expecting a baby, but this is the first time either one has confirmed their exciting news.
The intensely private Pattinson and Waterhouse have been in a relationship since 2018, when they were first spotted out in London going to the movies together. Now five years into their relationship, the couple are going to be first-time parents. And are apparently just as smitten with each other now as they were when they first met.
"I had two days off the other day, and it was like, no question I'm going back to see him," Waterhouse told The Times in February. "Then he'll come out for a couple of days. I'm shocked that I'm so happy with someone for nearly five years." She went on to add that she's still "incredibly excited when I see his name pop up [on my phone] or even a text, and I think he feels the same about me. We've always got so much to say, and I find him hilarious."
As the pair gets ready to welcome their first child together, that sense of humor will absolutely come in handy for them. Because finding a person who can make you laugh when you're up doing night feedings with a newborn is truly the key to happiness.