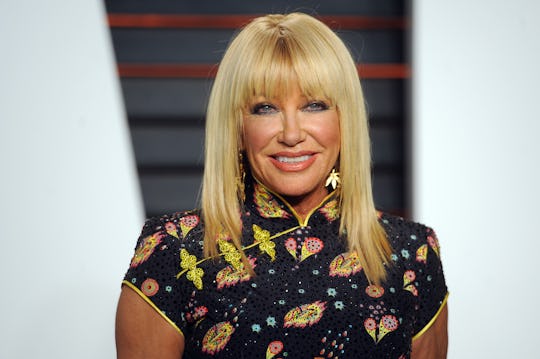 WWD/Penske Media/Getty Images
Suzanne Somers — Wife, Mother, & Grandmother Of 6 — Has Died At The Age Of 76
The actress battled an "aggressive form of breast cancer" for over two decades.
Suzanne Somers has died. The actress perhaps best known for her role as Chrissy Snow on Three's Company was 76 years old when she passed away on Sunday, surrounded by family who had "gathered to celebrate her 77th birthday on October 16th," according to a statement released on Somers' Instagram page. "Instead, they will celebrate her extraordinary life, and want to thank her millions of fans and followers who loved her dearly."
She died peacefully after reading a poem from her husband.
Somers, who battled an "aggressive form of breast cancer for 23 years," died not long after her husband of 46 years, Alan Hamel, handed her a love poem he had written for the occasion of her birthday. Hamel wrote in a lengthy poem shared by Somers' longtime publicist that there were no words to describe his love for his wife. "So I will call it 'US', uniquely, magically, indescribably, wonderful 'US,'" he wrote, per People. According to her publicist, Somers read the poem, laid down to sleep, and died later that day.
Their love story lasted more than five decades.
The Step by Step actress first met Canadian game show host Alan Hamel when she appeared as a prize model on The Anniversary Game, which he hosted, in 1967. They were both married at the time, she to Bruce Somers and he to Marilyn Shapiro, but would go on to divorce their spouses and date for nearly a decade before marrying in 1977. Since then, the couple had both been open about prioritizing their marriage.
"We give each other a lot of attention. That seems simple, but you'd be amazed at how many couples don't remember to give one another a lot of attention," Somers told Us Weekly in 2021. "It's not, like, a chore for us. I love to hug him and rub his hair. He tells me I'm beautiful all the time and we hold hands while we sleep. It's the most beautiful part of my life."
Her son, Bruce Somers Jr., was born in 1965.
The actress was just 19 years old when she welcomed her son Bruce Somers Jr. with ex-husband Bruce Somers. Every year in November, the proud mom shared a sweet post about her son to honor his birthday. In November 2022, she shared a throwback photo of the two of them together with the caption, "You are a living light and I am so proud to be your mother. Enjoy this day and I look forward to many, many more birthdays. I love you with all my heart."
Bruce is a CEO, husband, and dad of two.
After graduating from film studies in UCLA, Bruce Somers Jr. went on to marry cookbook author Caroline Somers in 1991. He also became CEO of his own company, WellisAir Purifiers. He and Caroline raised two daughters, Camelia and Violet, and Suzanne Somers opened up to People about her life as a proud grandmother in 2017. "You're a parent with none of the responsibility of being a parent," she said at the time, adding "You get to fall in love all over again."
Suzanne Somers was a stepmom of two.
When Somers married Hamel, she became stepmom to his two children from a previous marriage, daughter Leslie and son Stephen. She also became grandmother to four more children when Leslie and Stephen welcomed their own children.
Suzanne Somers created a whole life for herself and her family, melding her marriage and her career and her children into one big, wonderful love fest. As her son Bruce wrote in the wake of his mother's death, "I don't know how profound sadness and joy coexist, but feel profound sadness at the passing of my mother and extreme joy at the love that is pouring for her." A beautiful testament to a life well lived.