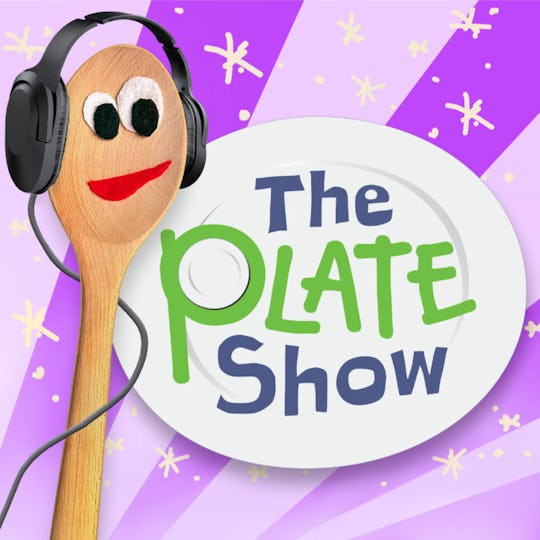 The WNET Group
The Plate Show Podcast Teaches Kids About Foods & Cultures Around The World
Your kids will love Spoonie.
If your podcast-loving kid happens to need a new show to dive into, they're in luck. The Plate Show, a new podcast for kids ages 6 to 9, launches on Oct. 31 with new episodes dropping every Tuesday. In The Plate Show, your friendly talking spoon host, Spoonie, is joined on the kitchen counter by her best friend of all, Tongs. Together they interview special guests about their favorite foods and meaningful cultural dishes, and they also play games, interview celeb chefs, swap recipes, and more.
Your kids will adore the utensils-turned-hosts in The Plate Show.
Spoonie and Tongs are voiced by Jasmine Romero (of Sesame Street fame) and Jonathan Butler-Duplessis (who you may know from Hamilton), so the cast has major acting chops. "We are excited for families to fall in love with Spoonie and Tongs as much as we have," Sandra Sheppard, executive producer of Kids' Media & Education for The WNET Group, tells Romper. "Spoonie dreams of flying around the world one day, tasting all the amazing foods it has to offer, and this show allows her the opportunity explore the world from her very own kitchen. Tongs is a research aficionado and a grounded presence to Spoonie's energy."
In Romper's exclusive sneak peek below, listen in as Spoonie discovers how pumpkin is used in dishes around the world. Yep, it's more than just a yummy pie filling.
"Each episode, these friends also help each other get through challenges while practicing critical life skills," Sheppard adds. "For example, Spoonie learning patience while baking challah for the first time or navigating Tongs' fear of spicy food."
The special guests include chefs and best-selling authors.
In Episode 6, author Kevin Maillard joins Spoonie and Tongs to tell stories about food that's meaningful to him and his family as a member of the Seminole Nation of Oklahoma. "When food stories fall on new ears, culture is being passed on. Without those stories, the interest in the food passes away," Maillard tells Romper. "Interest in cultural foods is usually centered in elder generations, and for many younger people, food can be an easy and equalizing way to talk to them. Sharing stories means saving culture, and food makes these stories especially memorable by calling on all five senses."
"I love sharing my culture with listeners because it took me too long to realize how cool it was," says Chef Calvin Eng, the special guest who will appear in Episode 8. "China is a big country and cuisines vary from region to region, so I love to be able to educate listeners about what Cantonese food is from the point of view of someone who is a first-generation, American-born Chinese kid."
The Plate Show is an educational podcast.
Chances are, if you got your kid into podcasts in the first place, you're looking for meaningful alternatives to screen time. The Plate Show was developed through the CPB-PBS Ready To Learn Initiative, funded by the U.S. Department of Education, with the goal of helping young kids develop skills to succeed in school, work, and life.
"Our goal was to create a podcast that was celebratory, fun, and offered a way for kids and their families to learn about other people and their special traditions through a universal connector: food," says Sheppard. "We spoke with many families in our local community about what they wanted for their kids and what kids themselves wanted to hear. We learned that families were looking for ways to help their kids develop an appreciation and curiosity for other cultures so they can interact and respect their neighbors from different backgrounds."
The Plate Show will be available for free on theplateshow.org and wherever you listen to podcasts, including Apple Podcasts, Spotify, Amazon Music, Overcast, and Pocket Casts.