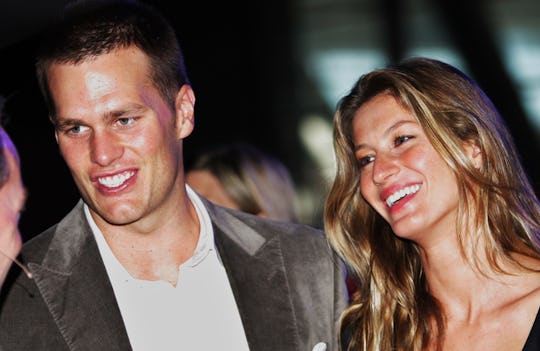 MediaNews Group/Boston Herald via Getty Images/MediaNews Group/Getty Images
Tom Brady & Gisele Bündchen Are Filing For Divorce
"Tom and I have amicably finalized our divorce."
Tom Brady and Gisele Bündchen are really having a year. The couple started out strong, with the NFL quarterback deciding to retire from playing football and his wife and family openly supporting his decision. Then, 40 days later he changed his mind and went back to playing for the Tampa Bay Buccaneers. A decision his wife did not publicly support. As tensions appear to escalate between the couple, what will happen with Bündchen and Brady's children?
Tom Brady and Gisele Bündchen have filed for divorce.
Page Six reported that the Victoria's Secret model had hired a divorce lawyer in early October. A source close to the couple told the publication that Bündchen had moved out of the family home as both she and Brady have hired divorce lawyers in the wake of a fight, allegedly over Brady's decision to continue playing football. "I never actually thought this argument would be the end of them, but it looks like it is," the source told Page Six. "I don't think there will be any coming back now. They both have lawyers and are looking at what a split will entail, who gets what and what the finances will be."
Now things have been made official. Multiple news outlets reported on Oct. 28 that Brady and Bündchen are filing for divorce. "The settlement is all worked out," a source close to the couple told People. "They've been working on the terms this whole time."
Gisele released a statement confirming their divorce.
Bündchen shared a statement on Instagram confirming that the couple have "amicably finalized" their divorce. "My priority has always been and will continue to be our children whom I love with all my heart," she wrote on Friday. "We will continue co-parenting to give them the love, care and attention they greatly deserve. The decision to end a marriage is never easy but we have grown apart and while it is, of course, difficult to go through something like this, I feel blessed for the time we had together and only wish the best for Tom always."
Now that the couple have indeed decided to file for divorce, a source told People that they have agreed to share joint custody of their children.
Here's a look at what Brady and Bündchen have shared about their kids over the years.
His son Jack Moynahan was born in 2006.
Brady welcomed his oldest son, John "Jack" Edward Thomas Moynahan, with ex-girlfriend Bridget Moynahan after the couple broke up in 2006. The former New England Patriots player was dating Bündchen at the time, and while it was initially a struggle, all of the parents involved made the situation work for them.
"I'm so grateful for [Bridget]," Bündchen told People about their family's co-parenting situation in 2019. "I know this was hard, but I couldn't imagine my life without [Jack]. I call him my bonus child."
Jack plays football like his dad.
Brady's oldest son plays football, just like his dad. And watching his son play is one of the "great highlights of my life," he explained on a recent podcast episode of Let's Go with Tom Brady, Larry Fitzgerald, and Jim Gray. "Getting out there and watching him play has been so much fun for me," he said in the episode. "And I don't give a s— how well he does. I just love watching him and seeing him enjoy it with his friends. And, you know, the camaraderie at a young age."
Benjamin Rein was born at home in 2009.
After Bündchen and Brady married in February 2009, they welcomed their first child together, son Benjamin Rein, in December of that year. Bündchen delivered Benjamin at home with Brady at her side, and it was something Brady was not on board with at first. "It was a home birth and it was funny because he didn't want me to have a home birth," Bündchen explained in the ESPN+ series Man In The Arena: Tom Brady. "He was like, 'Absolutely not,' and I was like, 'Excuse me, you don't get to choose that, it's my body.'" He eventually came around. "Me being there with G at his birth in our home, it lives in my mind," Brady explained in the video. "I think we brought this boy into the world in the most precious way."
Benjamin loves to joke around.
While Jack might want to play football, 12-year-old Benjamin was not interested. And again, it was a difference that Brady had to get used to with a little help from his wife. "I was like, 'C'mon, let's do this.' And he was like, 'Nope.' And I was like, 'What? No, do this!' " he told Men's Health. "And Gisele kept saying to me, 'Would you effing understand that your son is different?' It was hard for me. I was like, 'What do you mean? He's a boy; he should do all these things that I do.'"
Father and son found a different common interest. "The reality is that Benny just likes different things. And it's great because now I just have to go do what he wants to do. When we do that, we have the best time. He's like, 'OMG, Dad, you're so funny.' He loves joking, and I joke back," he told Men's Health.
Vivian Lake joined the family in 2012.
The couple welcomed their daughter Vivian Lake together in 2012, and the proud dad told ESPN at the time that the addition of a girl in the house felt right for their family. "I grew up in a house with three sisters. I think it's great for my boys to have a girl in the house, just to understand at least a little bit about what makes a woman tick — not that I can certainly figure that out, because I can't. She's a beautiful little girl."
Brady says he's a "softie" around Vivian.
The dad of three has a real soft heart when it comes to his daughter, apparently. "That little girl owns my day — owns my life," he told Entertainment Tonight in 2016. "[I] cannot say no to anything. Whatever she tells her dad to do, that's what I do. That's just the way it goes."
As his children grow, here's hoping the proud dad is able to keep that close connection with them.
This article was originally published on