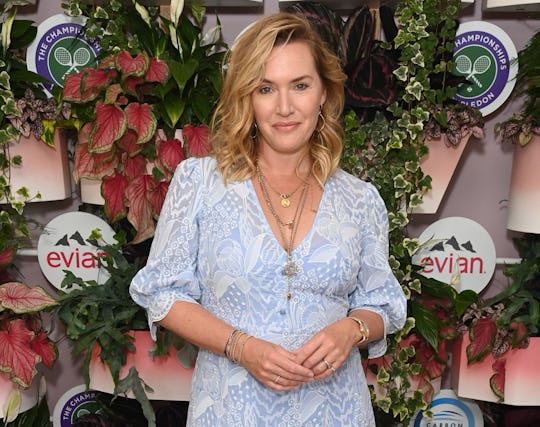 David M. Benett/Getty Images Entertainment/Getty Images
Kate Winslet Calmed A Nervous Young Interviewer & Won The Internet
"You don't have to be scared."
As a professional actress with decades of experience under her belt, Kate Winslet could be forgiven if she was tired of interviews. If she phoned it in, stopped paying attention, maybe pulled a Harrison Ford and went full curmudgeon. Winslet has decided to go a different way, or so it would seem in a recent viral video charming the internet. The mom of three takes time to comfort and encourage a young interviewer, telling her that she doesn't have to be scared, and going out of her way to put her at ease. Whatever the opposite of curmudgeon is called, that is Kate Winslet.
The Oscar-winning actress sat down to chat with a child reporter named Martha for logo! to promote her appearance in Avatar: The Way of the Water recently. Young Martha is heard in a video making the rounds on Twitter telling Winslet this is her very first interview, at which point the 47-year-old actress, who is mom to 22-year-old daughter Mia, 19-year-old son Joe, and 9-year-old son Bear, leaned in close. "It's your first time doing an interview?" Winslet asked before adding, "OK well guess what? When we do this interview, it's going to be the most amazing interview ever. And do you know why? Because we've decided that it's going to be."
Martha can be heard nervously laughing off camera, so Winslet takes it one further. "We've decided right now, me and you, that this is going to be a really fantastic interview. You can ask me anything you want, and you don't have to be scared," Winslet reassured Martha. "Everything's gonna be amazing. OK, you've got this." Martha whispered, "OK," and hearts around the world melted.
It turns out that this instance with Martha was not the first time Winslet has shown deep compassion for an interviewer. Podcaster Elena Nicolaou shared her own experience with the Titanic actress on Twitter, writing, "kate winslet was the first celebrity i ever interviewed IRL. i was terrified. she was nicer than she had any incentive to be. touched my arm like a mom and guided me off the small red carpet to make sure we could hear each other. definition of generosity and grace." Another Winslet fan noted that we could all use a pep talk like this in our lives, "If Kate Winslet gave me a pep talk like this I think I literally would go climb Everest the next day."
Considering the video has already been viewed millions of times, it seems we all needed a little pep talk from Kate Winslet, a celebrity who managed to maintain her deep compassion and humanity. Wonderful.