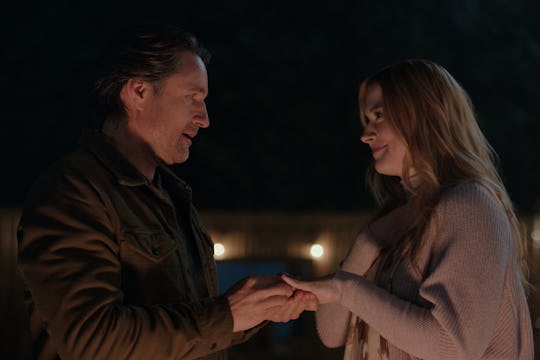 Netflix
Virgin River's Alexandra Breckenridge Says She Has Her "Fingers Crossed" For Season 6
Virgin River, based on Robyn Carr's romance novels, took Netflix by storm when it first premiered in 2019. Nurse practitioner Mel Monroe escapes the big city for small town life in idyllic northern California. There, she meets hunky, complicated bar owner and former U.S. Marine, Jack Sheridan. Loads of romance and dramatic storylines follow throughout the first four seasons of the series. Really, it's no surprise that fans already want more before Season 5 has even premiered. So will there be a sixth season of Virgin River? Here's everything we know so far.
Will Virgin River return for Season 6?
Netflix has not yet announced whether Virgin River has been renewed for Season 6. But it's surely what fans would like to see, as well as the cast. Alexandra Breckenridge, who stars as Mel in the series, revealed in a recent Cameo video that she's hoping for another season of Virgin River. "The fifth season ... that will come out probably, I don't know, maybe July again? I'm not really sure, nobody's updated me," Breckenridge says in the video shared on Twitter, before adding: "Fingers crossed for Season 6."
Who knows, Netflix could announce another two-season renewal as it did with Virgin River Seasons 4 and 5. Like Breckenridge said, fingers crossed.
Will Netflix renew Virgin River for more seasons?
If fans keep watching, it sounds like Netflix is ready to deliver. Jinny Howe, head of drama series development and content acquisition at Netflix, told Deadline in August 2022 that she sees "more longevity and growth" with Virgin River.
"I think we definitely see more longevity and growth with the show," Howe told Deadline. "As long as the audience asks for it and shows up — and I think we see with Season 4 that the fandom is very strong and growing in many places as well — it feels like based on what we're seeing with Season 4 and the anticipation for Season 5 that there is a lot more storytelling to offer us."
Howe also told Deadline that Netflix execs are "paying very close attention" to what Virgin River fans want from the series. "It will be exciting to see which characters continue to break out and audiences crave more of; we're paying very close attention, understanding that this is a really rich universe of characters and that people can't seem to get enough, myself included," Howe added. "So I think as long as that continues to be the case — which we're very hopeful for — you can rest assured that there will be more Virgin River."
When will Virgin River Season 5 premiere?
Although Netflix has not announced an official release date for Season 5, it sounds like July 2023 could be a safe guess. Not only did Breckenridge hint that Season 5 could premiere this summer, Martin Henderson, who plays Jack Sheridan in Virgin River, recently said as much. "Virgin River Season 5 coming out, I think, probably in July. So not long now, a few months," Sheridan said in a recent Cameo. "Another installment of hot, steamy gossip and intrigue on the river." Seasons 3 and 4 also premiered in July 2021 and 2022, respectively, so they're probably onto something.