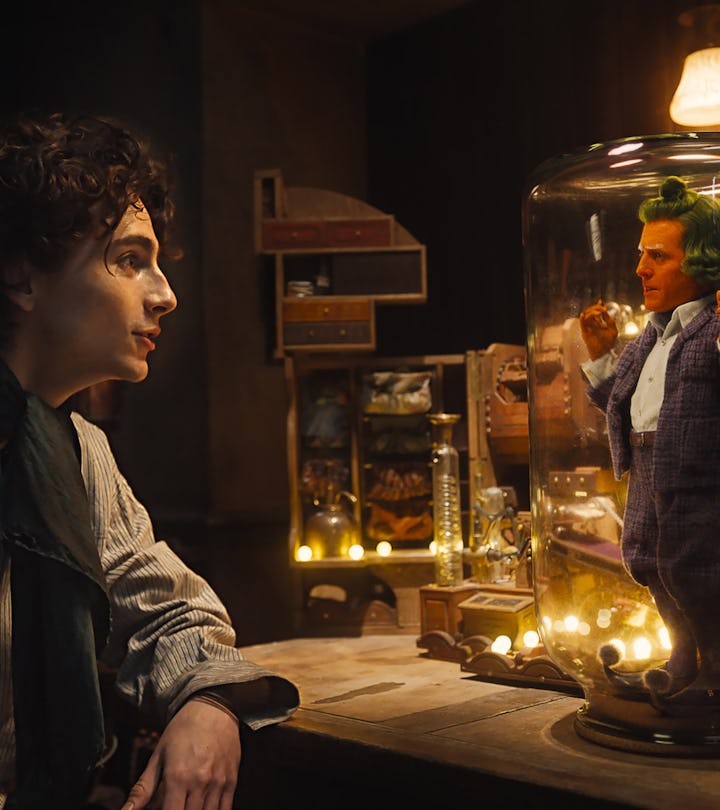 Warner Bros
The New Wonka Movie Officially Has A Trailer
Hugh Grant as an Oompa Loompa is everything.
Roald Dahl's Charlie and the Chocolate Factory was never really a story about Willy Wonka, the outlandish candy maker with the army of Oompa Loompas and the river of chocolate flowing through his factory. It was about Charlie and his Grandpa Joe and his kindness and heroism. Something Willy Wonka himself admired. Because, it seemed, kindness and ingenuity made him famous. Or so it seems in new origin story film Wonka. A new trailer has officially been released and here's everything you need to know about the new Wonka movie before it premieres.
What is Wonka about?
Of course, fans have seen Willy Wonka on the big screen before. Gene Wilder played the chocolate maker in the original Willy Wonka & the Chocolate Factory film in 1971, a film Wonka director Paul King (Paddington) was not interested in replacing. Hence this story takes place in Willy Wonka's youth.
"What I wanted this movie to be was like a companion piece to that movie," King told Entertainment Weekly. "If you imagine those people in that world 25 years earlier, that was my starting process. Eventually, he would grow into that person and that factory."
The first official Wonka trailer follows a young chocolate maker with big dreams.
The first trailer for Wonka sees the future chocolate maker coming up with his own amazing chocolate inventions but struck down by the so-called "chocolate cartel," a powerful group who stops any potential chocolate maker from buying their own shop to sell their wares. Willy (Timothée Chalamet) works with his friends to try to get around the cartel. There's music and color and a real feeling of whimsy and hopefulness as Willy tries to make his dream come true. And there is exactly one Oompa Loompa, "the funny little man who's been following me." The Oompa Loompa (Hugh Grant, if you can believe it) who is trapped under a glass and shows Willy the special Oompa Loompa dance.
"I don't think I want to see this," Willy tells him and the Oompa Loompa says, "Too late, I've started dancing now. Once we've started dancing we can't stop."
Who stars in Wonka?
Along with Timothée Chalamet and Hugh Grant, Olivia Colman, Rowan Atkinson, Sally Hawkins, and Matt Lucas also have roles in Wonka. Quite a stellar cast.
How and where can you watch Wonka?
Wonka will premiere in theaters across the country on Dec. 15. It will only be available in theaters when it first premieres, and considering how visual the movie looks in the trailer alone, you'll definitely want to see it on the big screen. Especially over the holidays.