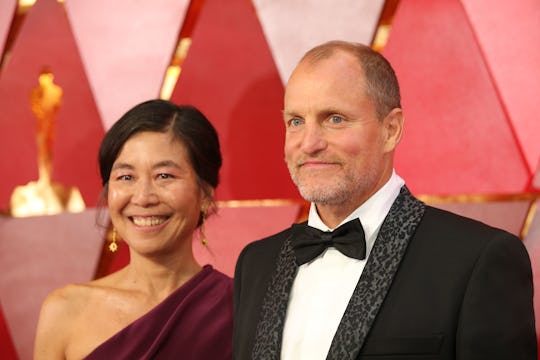 Marcus Yam/Los Angeles Times/Getty Images
Woody Harrelson Is A Proud Dad Of Three Daughters He Calls His "Goddess Trilogy"
The Cheers actor and his wife Laura Louie have been together since 2008.
Woody Harrelson gives the distinct impression as a person who marches to the beat of his own drum. In his decades-long career, Harrelson has made a name for himself as exactly himself. The kind of guy who shows up to a movie premiere in pajamas and socks as he did for The Mockingjay Part 2 premiere in 2015, for instance. That's just what he's like, comfortable in his own skin, as his own man. Perhaps because he has a rock solid life at home with a wife and three daughters. They probably even laughed at the pajama bit. Here's what else you need to know about the actor's family.
He met his wife when she was his personal assistant.
Harrelson had been married and divorced within one year in the '80s to Nancy Simon, daughter of Neil Simon, before he met future wife Laura Louie. She was hired as his assistant in the early days of his impressive career, when he was on the hit series Cheers, and she clearly made an impression. "She was so great that every other person in Cheers got an assistant after that. She became my assistant the day after I met her and for the next three years," he explained to The Hollywood Reporter. "It was one of those things I wouldn't admit to myself: I didn't want to be attracted to my amazing assistant."
He played her a song to let her know how he felt.
Eventually he played a song for her when he just couldn't hide his feelings any longer, and to his surprise Laura reciprocated, he told The Hollywood Reporter. "It was pretty direct. I play her the song, and afterward she says, 'Woody, I've been in love with you for the last two and a half years.' The insecure actor in me is like, 'What about the other six months?!' I got the most amazing wife I could imagine."
They stayed together for years before eventually marrying in 2008, and are still happily married to this day.
Their first child, daughter Deni Montana Harrelson-Louie, was born in 1994.
The actor welcomed oldest daughter Deni with Laura Louie in 1994. While the couple have kept their daughter very much out of the spotlight and she does not have a social media presence, Harrelson opened up about how she changed his world when she was born. "I remember my daughter Deni coming along, and she was so pure and caring of everybody and everything," he told Esquire in 2008. "And somehow, this little being managed to get around all the obstacles ― the gun turrets, the walls, the moats, the sentries ― that were wrapped around my heart. My heart at that time needed her. I think it's the best thing going, parenthood."
Daughter Zoe Giordano Harrelson-Louie was born in 1996.
Deni became a big sister when her parents welcomed Zoe in 1996. Much like Deni, Zoe has stayed mostly out of the public eye. But in 2015, she did give a Ted Talk at her high school about the dangers of phones. Zoe also appeared with her dad in the U2 short film Song for Someone.
Makani Ravello Harrelson-Louie's birth in 2006 was meant to "balance the energy."
When their youngest daughter Makani Ravello was born in 2006, her parents issued a statement letting everyone know that she would be their last baby since their "goddess trilogy" was now complete. "In this crazy patriarchal world we live in, we are doing our part to balance the energy. We are proud to announce the completion of our goddess trilogy with the birth of our third daughter, Makani Ravello," they wrote per TODAY.
His family keeps him feeling "hopeful."
The proud dad told Luftansa magazine that being with his family keeps him feeling optimistic. "No one who's as lucky as I am has a right to be cynical. Luckily, I have my family, which makes me hopeful. What they do comes more from the heart than the head. And there's a young generation growing up and they are coming from a very pure perspective. It's not connected to economics. These kids give me hope that finally, a change will happen."
A family that rejoices and celebrates each other. It's a beautiful thing.