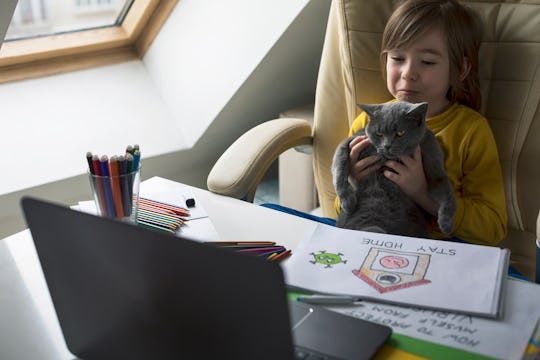 portishead1/E+/Getty Images
11 April Fools' Day Zoom Pranks For Your Kid To Play
Because honestly, why not use the digital opportunity for a joke?
After a full year of remote school, I think we can all agree it is in no way a decent substitute for the real deal. Not even close. And while many schools have now fully opened, there are still lots of kids plodding along through classes via their computer screens. It is . . . less than ideal. Which is why you should totally encourage your kid to liven up her four millionth Zoom with one of these 11 zany online April Fools' Day pranks.
Last year, April Fools' went largely unrecognized. Mainly because at that time, reality itself felt like an unbelievable joke. It's rather heartening and encouraging that a year later, I think we all feel a bit more up to acknowledging the silliness of the day and having some laughs. From changing your background to the surface of Mars, to donning a mustache and wig, there are lots of goofball ways kids can prank their peers this April 1.
Though I think we can all agree the greatest Zoom laugh we've had this year wasn't intended as a prank at all. Cat lawyer, we salute you. Now, and forever. Case closed. Meow.