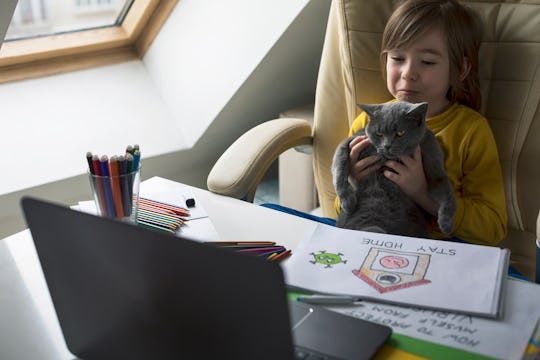 portishead1/E+/Getty Images
14 Funny April Fools' Zoom Pranks Kids Can Play On Their Class
Because honestly, why not use the digital opportunity for a joke?
After a full two years since the onset of lockdown, I think we can all agree that Zoom school is in no way a decent substitute for the real deal. Not even close (but major props to the teachers who wrangled 20 kids via Zoom boxes, or worse, taught to a class of black squares). And while schools have now fully opened, there are still lots of kids plodding along through classes via their computer screens. In some cases it's still school classes, sometimes it's tutoring or an extracurricular activity. It's all… less than ideal. Which is why you should totally encourage your kid to liven up her four millionth Zoom with one of these April Fools' Zoom pranks kids can play on their class.
These April Fools pranks for Zoom will acknowledge the silliness of the day and bring some lighthearted laughs (notably, none of the suggestions are to pretend you have Covid because that won't make anyone smile). From changing your background to the surface of Mars, to having your pet do the learning, or donning a mustache and wig, there are lots of goofball ways kids can prank their peers (and their teachers) this April 1. And some of these April Fools' Day Zoom pranks don't require much planning at all.
With a little effort and a mischievous spirit, these April Fools' Day pranks will make Zoom way more fun than usual.
This article was originally published on