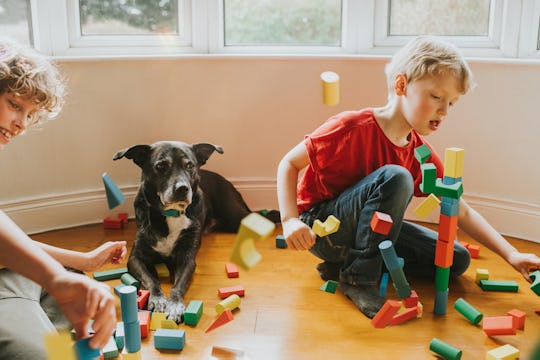 Catherine Falls Commercial/Getty
10 Distance Learning Break Ideas To Keep Your Kid Happy & Engaged
Spending eight solid hours focused solely on school work is a lot for kids, so many schools build in breaks throughout the day. If your child is learning from home, you may be looking for some distance learning break ideas to help their brains. Instead of just staring out the window aimlessly for five minutes, these activities can actually help your child when it's time to return to their school work.
"These breaks are important because they provide a respite for the student to energize, which helps relieve stress, improves concentration once back on task, and gives them a chance to do something else they may find more fun or creative," neuropsychologist Dr. Sanam Hafeez, Psy.D. tells Romper.
As an adult, I find that if I lose focus during work, taking a few minutes to stretch, walk around outside, or have a snack really helps to get me back on track once I return to working. My kids are the same way, but sometimes they need my help in figuring out exactly what it is they should be doing during school break time.
From dance breaks to meditation and even playing with LEGOs, there are plenty of options when it comes to things your kids can do during school break time to help their brains. Taking a few minutes to do something different can definitely help reset your child's mood, improve their focus, and give them a chance to rest and not become burnt out during the school day.