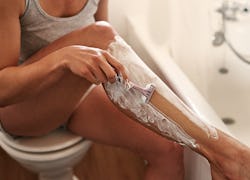 These Shaving Tricks Will Legit Keep Hair From Growing Back
PeopleImages/E+/Getty Images
Stubble is definitely in the "top five things that are super annoying to deal with" category.
No matter what part of the body you're shaving, it takes a bit of time to do, which is why it's so frustrating when you run your hand over the area the next day and feel prickles. Unfortunately, there's no shaving-hack that will slow down the rate of your hair growth, but there are some shaving tricks to keep hair from growing back (seemingly overnight) that you can try. They're worth a shot because if nothing else, you'll at least be left with healthy glowing skin after trying them.
"All hair on our body grows at a rate of about one centimeter per month, and there's little you can do to change that rate of growth," San Antonio dermatologist Dr. Jennifer Krejci, MD, FAAD, tells Romper in an email. She explains that even plucking your body hair doesn't actually slow down the regrowth process, it just gives it a different starting point. "Plucking hair from the root or using depilatory creams will create the illusion that the hair is slower to grow back because the growth is starting a few millimeters below the surface of the skin. Whereas shaving occurs at the surface level so as soon as regrowth begins, you feel the prickly ends on your skin."
If you're not interested in getting your body hair waxed or removed via laser, in order to make your shaves last longer you'll need to focus on getting the closest shave possible so that the hairs have to grow a little while longer before they become noticeable to you. Here are some ways to do that.
This article was originally published on