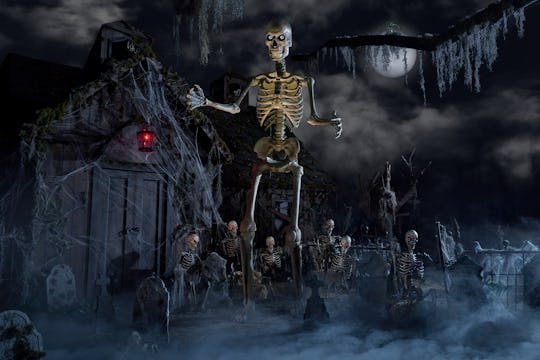 Home Depot
The Viral 12-Foot Skeleton From Home Depot Is *Back* Baby
No doubt about it: Skelly is a statement piece.
We may receive a portion of sales if you purchase a product through a link in this article.
If you give a Halloween-loving millennial a little extra disposable income around this time of year, what are they going to spend it on? Halloween decorations, obviously. And no Halloween product has ever gone more viral than the 12-foot skeleton from Home Depot. Well, Skelly is back this year, and he's ready to bring fright to new heights in your neighborhood. He'll be available on Home Depot's website beginning July 13.
This giant, glowy-eyed Bone Daddy from Home Depot's Home Accents collection will set you back a cool $299, but considering the fact that it's as tall as many houses — and measures 6 feet across — it was never meant to be an economical Halloween decoration. Unless, of course, you consider the fact that with this bad boy in your yard, you won't need much else to make a spooky statement.
As for his features, Skelly here is constructed out of high-density polyethylene, so he's pretty lightweight for his size and is weather-resistant. He's perfectly equipped to handle heat, rain, cold, whatever October weather looks like in your neck of the woods. His eyes shine with LED lights that appear to blink and move around. The eyes are equipped with a timer function that keeps them all aglow for six hours at a time, then turns them off for 18 hours, and back on again and your specified time.
If you really want to get your money's worth out of this 12-foot skeleton, display it year-round. You can dress it up in a pool float and sunnies to usher in a summer of fun, and deck it out in Pride gear for June, because obviously Skelly is an ally in life and in death. Be warned, though: your new skeleton friend's eyes are powered by four C batteries, which you know you don't have, so pick up a few packs when you're at Home Depot.
And last order of business: check out Home Depot's instructions for maintaining and storing your towering new friend. They recommend cleaning him off with mild soap and water before disassembling and storing him in his original packaging.
This article was originally published on