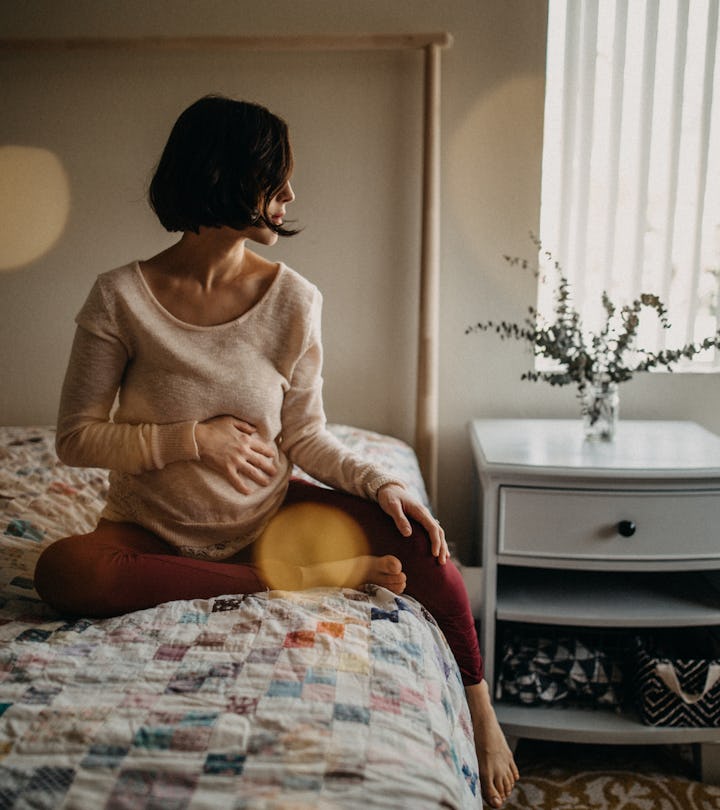 Cavan Images,Getty Images
Here's How 12 Moms Describe What It's Like To Be On Bed Rest, For Real
It might sound like a blessing, but it's more like a curse.
When every part of your pregnant body is achy, itchy, swollen, and tired, having unfettered time to just relax and stay in bed sounds like a godsend. The idea of no one asking you to refill their sippy cup, unlimited time to just read, watch trashy TV, or sleep as long as you want can sound like the cure that would ail you —literally— if you were on bed rest. But what is it really like to be under the covers all day, every day? Well, we asked, and 12 moms described what it's like to be on bed rest. Their answers will likely surprise you (unless you happen to be on bed rest while you're reading this).
During pregnancy, some women might be advised to go on pelvic rest, what we know as modern day bed rest, a prescription that can be both a blessing… and a curse.
"Bed rest is most commonly used for premature labor and high blood pressure," OB/GYN Dr. Kim Langdon, M.D. tells Romper in an email. "Other times, it might be due to conditions that involve placental problems such as placenta previa."
Bed rest can be prescribed at any point in pregnancy, and if your situation is severe, you might be bed-bound at the hospital, What To Expect explained.
Unfortunately, bed rest hasn't been proven as an effective means to stop preterm labor, or even slow down an early delivery, according to the Mayo Clinic. "If a patient is spotting during the first trimester, we tell them to reduce activities or advise bed rest, even though there is no evidence that you can stop a miscarriage that way," Dr. Langdon says. And being on activity restriction can also create additional health risks, too, such as bone loss, decreased muscle function, a disruption in your sleep cycle, and even depression, a study published in Science Daily reported.
Still, in the best interest of both you and your baby, you might need to go on bed rest at some point during your pregnancy. If you're wondering what it's like, just listen to these moms who have been on bed rest, too.