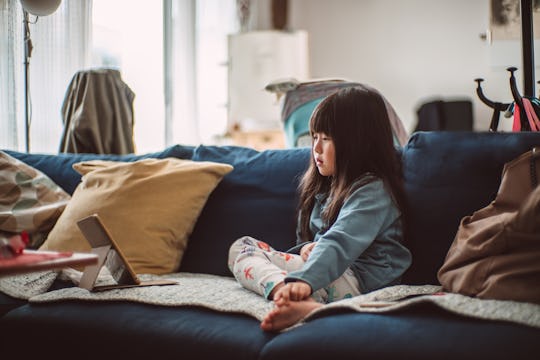 Images By Tang Ming Tung/DigitalVision/Getty Images
Here Are 13 Kindle Apps For Kindergarteners You Won't Want Regret Downloading
Sure, you know your kindergartener shouldn't have too much screen time. But there comes a point in every parent's life (or every day, if we're all being totally honest here), when you need to toss some tech your child's way so you can have a few moments of Me Time. Unfortunately, handing over your phone or letting your kid sit at a computer might mean that they'll stumble across something that isn't exactly G-rated. So if you have a Kindle that's collecting dust, power it up for these 13 best Kindle apps for kindergarteners that are parent (and kid) approved.
Your Kindle can do a lot more to keep your kid occupied than just play mindless games and videos. Little learners can study their ABCs, their 123s, and a whole host of other skills (some social, some strategic). And the best part is that these Kindle apps incorporate a lot of fun (and cute cuddly characters) so that learning doesn't feel so, you know, laborious.
While some of these apps are free (or have free versions online), most are $5 or under. When you consider that your kid will be quiet for a a little while and learning to boot, well, that might be a very worthwhile investment in their education — and your peace of mind.