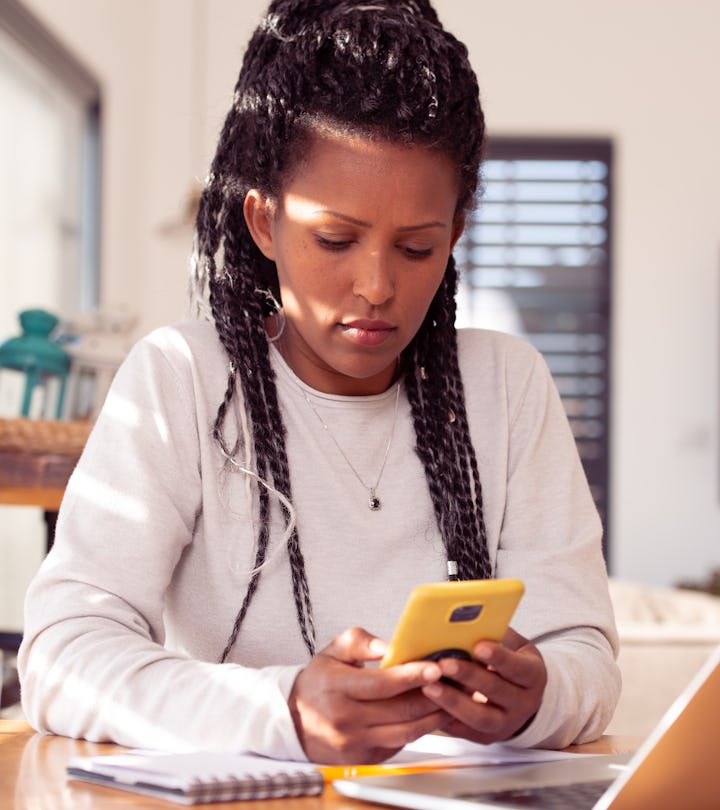 RuslanDashinsky/E+/Getty Images
15 Signs Your Spouse Is Toxic
Because some of people have been conditioned to think these things are "normal."
If there's one phrase that is totally cliché and overused, it's this one — marriage is hard. Everyone says it, everyone knows it, and everyone hears it, especially when complaining about a spat with their spouse. But while marriage takes a lot of work, there are some relationship challenges that are more than the everyday obstacles. When you can't pinpoint where things are going wrong and you're tired of chalking it up to the standby phrase, it's time to take notice of the signs that you have a toxic spouse.
Neuropsychologist Dr. Sanam Hafeez says that the actions of a toxic spouse are "not all that different" from what you might have experienced in a toxic friendship, though she calls the behavior "more shocking" when it happens with your partner. "When we are in this type of relationship, we can feel it in our core," Hafeez tells Romper. "If a spouse is toxic, they will likely have a Jekyll and Hyde personality where you never know which version of them you are going to get."
Rest assured though, Hafeez says that your spouse's toxicity and their behavior "whether they behave in an evil way or angelic, has nothing to do with your actions." Zero. Zilch. Nada. This is not your fault.
What To Do If You Have A Toxic Spouse
"Don't be afraid to take action," Hafeez tells Romper. You don't have to sit idly by if you experience mental or emotional harm from a toxic marriage. Reach out to friends, family, and professionals for help.
"Finding the root of the problem is important, but sometimes, the answer may be as simple as knowing when to walk away," says Hafeez. "If there's more negativity in a situation than positive, it's time to make a change. If you feel as if you're in physical danger, you may need to involve the authorities. The National Domestic Violence Hotline offers 24/7 guidance at 1-800-799-7233."
Signs You Have A Toxic Spouse
When we are with someone, especially a spouse, it's easy to overlook their flaws and the little things they do that drive us crazy. Letting go of the irritation you have every time they lose their keys or working on communication so the little misunderstandings will stop piling up — that's what makes marriage hard.
But dealing with a spouse that is poisonous to your life? That's not the same and it's not normal. If you're still unsure where you stand in your relationship, these signs that you have a toxic spouse may shed some light on the situation and propel you to find an antidote for the poison.
Experts:
Dr. Sanam Hafeez, neuropsychologist in NYC, director of Comprehend the Mind
Stephanie Mintz, MA, LMFT, The Strategic Relationship Consultant
Babita Spinelli, LP, relationship coach
Lee Wilson, relationship coach
This article was originally published on