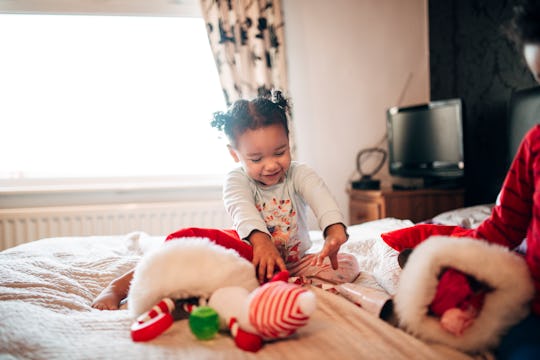 SolStock/E+/Getty Images
Stocking Stuffers Under $10 That Are Practical & Thoughtful
Because nobody wants extra candy canes.
Raise your hand if you've had a Christmas Eve panic attack upon realizing you don't have enough stocking stuffers. Just me? Oh what joy it is to ride to a CVS at 9 pm, tearing things off the shelves like a Supermarket Sweep contestant hoping your kid won't notice the bit of remaining price tag left on their Bonnie Bell lip balm. Good times. Of course there is a better way. You could spare yourself the agony and buy one of these fantastic stocking stuffers that are under $10.
Because I know that busy parents want to forget not just kiddo stocking stuffers but also those for their sig/others, grandparents, cousins, et.al, I've tried to include in this list items that will appeal to a variety of eager boys and girls, young and old. There's some trendy tech items, kid hair accessories, sustainably-focused products, and even a tire pressure gauge thrown in there for good measure. You know, an eclectic mix of things with just as many practical as thoughtful gifts thrown in for good measure.
The goal, as always, is to fill it with items that Santa might actually gift, but that stay within a budget and these 15 items fit the bill.
We only include products that have been independently selected by Romper's editorial team. However, we may receive a portion of sales if you purchase a product through a link in this article.
Original reporting by Mishal Ali Zafar.