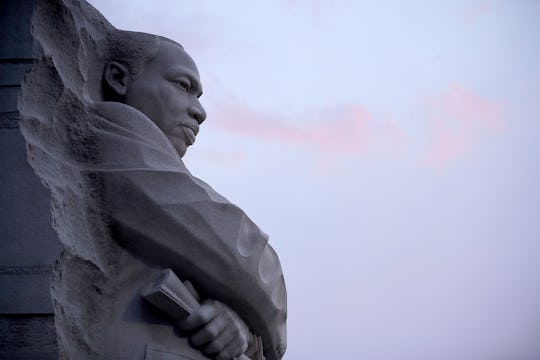 Chip Somodevilla/Getty Images News/Getty Images
16 Children's Books About Martin Luther King Jr. To Introduce Them To The Icon
Children's books are an excellent way to introduce kids to the wise words and actions of people you'd like them to emulate, and these stories about Martin Luther King, Jr. are a worthy addition to any family's library. From his peaceful marches to his inspiring speech delivered on the steps of the Lincoln Memorial, King is an amazing role model for any kid growing up in today's tumultuous time.
For anyone still waiting for the "right time" to talk about race with their kids, "the answer is now and always" as Romper columnist Tabitha St. Bernard-Jacobs put it. Books can be an invaluable tool if you're not sure how to start. The activist's biography, speeches, and legacy are all addressed in these children's books, which range from brightly illustrated board books for toddlers to portraits of the peaceful marches told from a child's perspective.
These talented writers and illustrators have told the MLK story from a whole range of different perspectives, all of which can help children understand the way King worked for desegregation and voting rights for Black Americans. Even young kids can see the wisdom in King's famous "I Have A Dream" speech, which is as moving today as it was nearly 60 years ago.
We only include products that have been independently selected by Romper's editorial team. However, we may receive a portion of sales if you purchase a product through a link in this article.
This article was originally published on