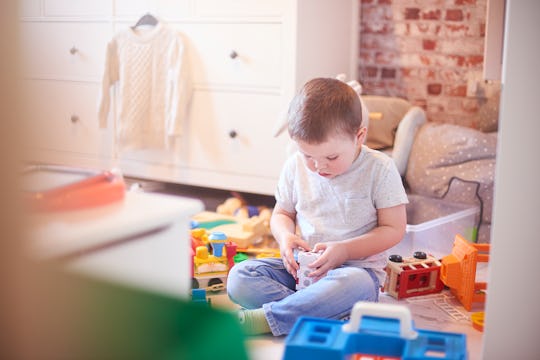 MartinPrescott/E+/Getty Images
16 Activities Kids Under 6 Can Do By Themselves (While You Sneak In Some Work)
No matter how much you love your kid, being in close quarters with them 24 hours a day is not easy, especially if they're under 6 years old. With all the coronavirus quarantine and isolation measures in place right now, most parents of preschoolers could benefit from having some independent activities for kids under the age of 6 ready to go in their home. This preparation will come in handy when you need a moment to make a work call, catch your breath, or just go to the bathroom by yourself.
"I recommend setting a visual timer for when you work vs. when you can play with your child," Becky DelVecchio, M.Ed., tells Romper. "It's unnerving for children when their parents are present but not fully available," she explains. Let your kid know what's coming: First I'll work for x minutes, then I can play with you. "The important part is that your child needs to know it's coming, and that it actually does, often and regularly," DelVecchio says.
It doesn't matter if you were a stay-at-home parent, working parent, or a combination of both before the COVID-19 pandemic happened, everyone is trying to adjust to life in quarantine. Outside of the house is a global crisis threatening the lives of thousands, and inside your home is a preschooler with all the energy and no attention span. Whether you have a deadline or a Zoom meeting or just what seems like a hundred loads of laundry to do, you're definitely going to be needing some ways to keep your kid occupied on their own on a daily basis. But with the right activities — and the right attitude — you can make it happen.
There's no question that this time will be an adjustment for you and your kid(s), but providing them with some fun activities and games they can do all by themselves will give everybody what they need. Here are 16 games, activities, and toys that are perfect (and safe) for some independent play.