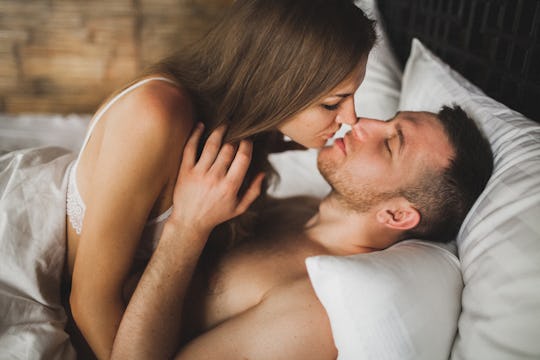 Oleg Breslavtsev/Moment/Getty Images
19 Common Things Women Do In Bed That Men Don't Like
They say there's no such thing as bad sex, but the proverbial "they" os wrong. Sex doesn't necessarily require an array of moves from the Kama Sutra to be enjoyable, but it doesn't take much to ruin it. In fact, there are some common things women do in bed that men don't like, and it can seriously hurt everyone's good time.
I know what you're thinking and here's the truth — you can be sex positive and still want to please your partner and make him happy. It doesn't mean you have to give up everything you love or need out of sex, but it means compromising and creating a healthy, safe, and consensual sexual relationship that both of you are invested in.
I reached out to a few friends to get their take on things women do in bed that they hate, and I was overwhelmingly surprised by their answers. When I asked things like, "Do you hate when she doesn't shave?", they all shrugged their shoulders. Turns out that the things you think are a big deal — like matching lingerie, unshaven legs, or spitting instead of swallowing — don't matter in the grand scheme of things. But there does seem to be an underlying theme to these 19 common things women do in bed that men don't like — consent. Yep, women need to ask for it, too, so if you think you're following some of these things on the list, it might be time to have a conversation with your guy. He has boundaries, desires, dislikes, and needs, too.