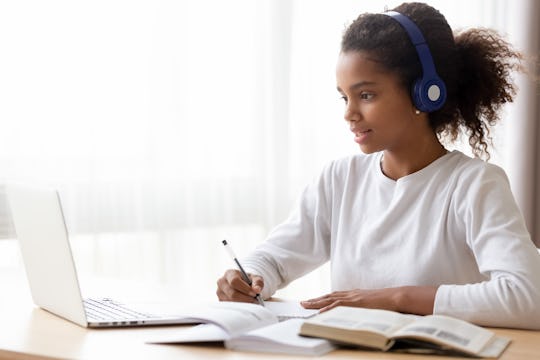 Shutterstock
19 Free Homeschooling Resources & Tips To Help The Entire Family
300 million students worldwide stopped attending school thanks to the coronavirus this past spring, according to the Cato Institute. This back-to-school season, parents have been given one of three choices: send their child for in-class learning, set students up for full-time remote-learning, or a combination of both. Truth be told, none of these options are ideal. If you decide to scrap the school system altogether and opt to homeschool your child this fall, homeschooling tips and free resources are a must for getting through it all.
So, what's a working or stay-at-home parent to do now that they're also a teacher to one or more children? Richard Peterson, CFE and chief academic officer at Kiddie Academy Educational Childcare, recommends the following in an interview with Romper:
Make sure you set everyone up for success by having supplies, meals and an activity schedule ready for the day.
Have lunch time outside if it's nice out! It's a great opportunity for fresh air for both of you before jumping back into work mode.
Set up "office space" adjacent to your own, which would include similar supplies: glue, tape, safety scissors, markers, etc. Your child could then work alongside you on schoolwork and planned activities. By having their own "office space," they would not be encroaching on yours.
Plan ahead the night before so you aren't rushing in the morning trying to plan out activities between emails and calls. Similar to how things are run in an office, try mapping out the day to keep your little ones occupied during work hours.
But what to put on your student's school-day schedule? Fortunately, there are plenty of free educational resources available online.